Event: Reliable Digital Signage Platforms Seminar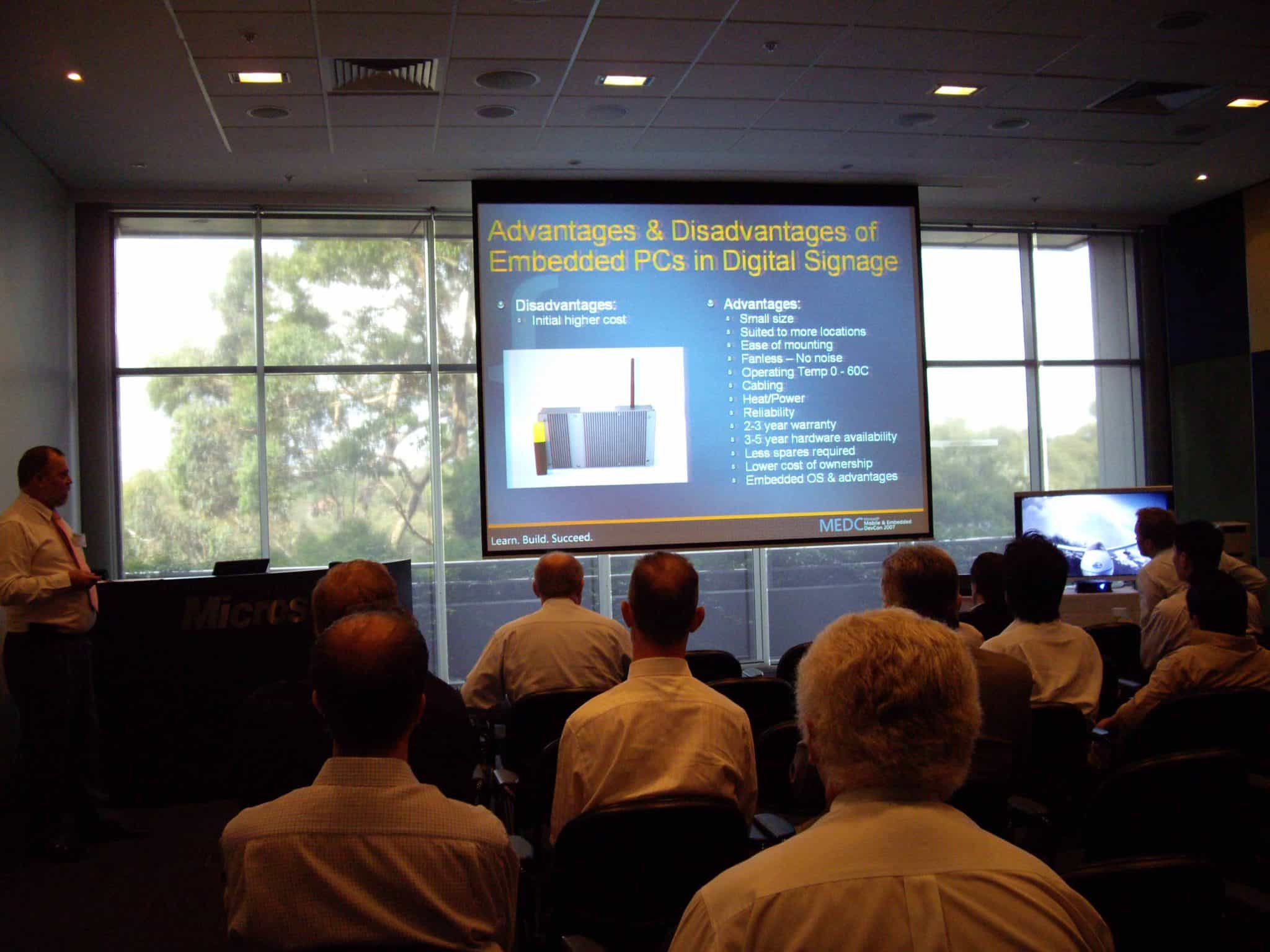 Today, we attended the Reliable Digital Signage Platforms Seminar which was hosted by ROK Technology, ICP Digital Signage and sponsored by Microsoft Australia.
As far as I can recall, there hasn't been any digital signage seminars in Australia in the past and this was actually the first one we've ever attended. This is a good indication the Digital Signage industry in Australia is rapidly growing and businesses are embracing this new advertising medium.
The following Digital Signage topics were covered during this seminar :
1. Microsoft & Digital Signage: An overview of where Microsoft see's the digital signage market
2. Reliable Digital Signage PCs: Desktop vs Embedded Solutions (To discuss this topic on our Digital Signage Portal Forum click here.)
3. Operating System Platforms for PC based, Rich Media Signage Solutions using Windows XP Embedded
4. Display Technologies: LCD vs Plasma (To discuss this topic on our Digital Signage Portal Forum click here.)
5. Effective Digital Signage Content Management & Distribution Systems
6. Trend from Print to Digital Media

At this seminar, ICP also showcased some of their small form factor digital signage PC's. We took a photo of their high end digital signage PC playing HD content on a NEC LCD screen. The photo quality isn't that great and that's because I used my mobile phone to take the photo. Apologies for the poor quality.
Finally, we found this seminar very educational and walked away knowing that the Digital Signage market will indeed become "the" next advertising medium in Australia. We hope to see more Digital Signage seminars and events in the near future.
LIKE WHAT YOU'VE READ?
When you subscribe you will also join other Digital Signage readers who receive our content right in their mailbox. Good luck!