DIGITAL SIGNAGE BLOG CHRISTMAS COMPETITION 2015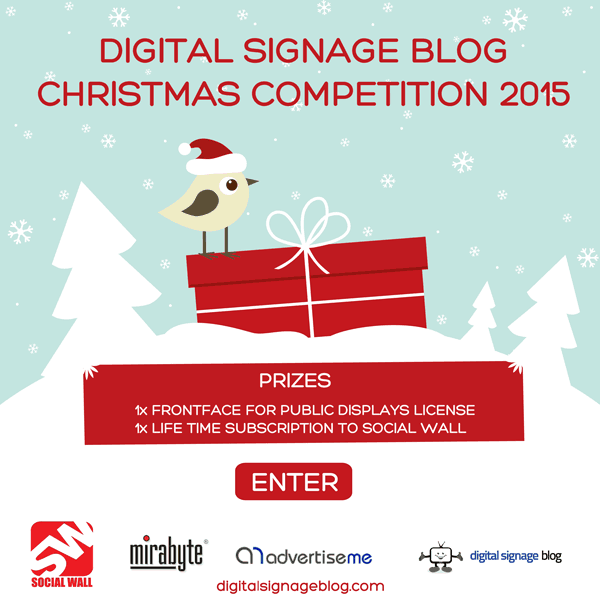 Christmas is just around the corner and this year we decided to give back to the Digital Signage community and run a competition to win a Digital Hamper.
What is in the Digital Hamper?
The current prize pack is as follows (if your company would like to add your product or service to this list then please contact us):
1x FrontFace for Public Displays License (valued at 500 EURO) by mirabyte – This is a powerful and flexible digital signage software product that can be used to display different types of content. It can be used for a variety of purposes such as displaying advertising or corporate information, welcome screens, waiting room TV and so much more. Watch this video to get an idea of what the software can do:

For more information about this product visit the mirabyte website.

1x Lifetime Subscription to Social Wall (valued over thousands of $$) – Social Wall is a tool to create a digital wall of social media posts. It is able to display Social Feeds (Facebook, Twitter, YouTube, Instagram and Pinterest) on websites, video walls, digital signage screens, tablets, mobile phones or any other digital device. Get your FREE 14 Day Trial here.
Social Wall complements well with the FrontFace for Public Displays. Have a read of these instructions on how to use Social Wall with FrontFace for Public Displays.

How to enter the Competition?
It's simple. All you have to do is subscribe to the Digital Signage Blog newsletter below and in the Welcome email reply back with an answer to this question:
Who should be responsible for managing the content on a digital signage network?
For those of you who have already subscribed, just reply back to one of our newsletters with the answer. Only one answer per subscriber.
NOTE: You need to be a CONFIRMED and REGISTERED subscriber to win the prize. 
We will then select the best answer on Christmas Day (25th December 2015 AEST) and announce it here (we will publish the winners answer and first name. We will also send the winners email address to our partners so that they can send you the prize). So enter now for your chance to win this amazing Digital Hamper!!! Don't forget to share it with your friends, clients, partners and colleagues.
LIKE WHAT YOU'VE READ?
When you subscribe you will also join other Digital Signage readers who receive our content right in their mailbox. Good luck!