Interactive display solutions provide enhanced guest experiences in high-end Manhattan hotel in New York City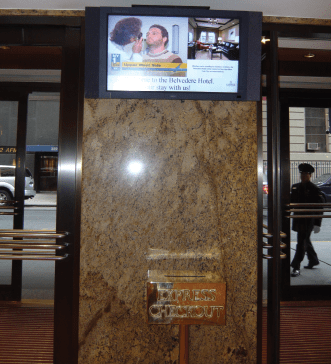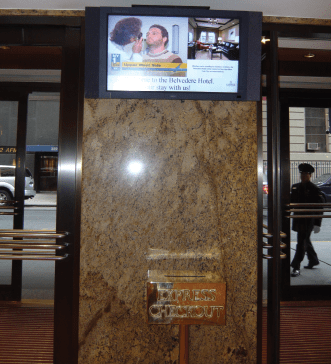 Looking to create an exceptionally high standard of customer service and improve on their guest-orientated environment, Manhattan's high-end boutique hotel, The Belvedere, turned to digital signage as a means to achieve these goals and enhance the communication efforts with their guests.
With a focus on providing The Belvedere with increased functionality and flexibility, ADFLOW Networks' proven, patented technology, provided a unique digital signage solution, designed specifically to incorporate their business objectives which are to captivate, inform and entertain guests staying in their hotel.
By utilizing eye-catching, captivating screens, guests are also entertained while waiting, which helps decrease perceived wait times.
The Belvedere Hotel's digital signage initiative utilized LCD screens to engage guests, by
providing time-sensitive, relevant information on ?ights, restaurants, weather, news, the Belvedere brand itself and selected features and services provided.
Michael Link, Belvedere Hotel General Manager, is pleased with the addition of the digital signage network and the flexibility it gives them in communicating with their guests.  "We are very happy with our digital signage.  We currently have monitors installed at various locations; lobby, restaurant, and in our guest laundry facility," Link said.
"The monitors simultaneously display a message ticker that scrolls along the bottom of  the screen," explains Link.  "We welcome guests to our hotel as well as recognizing groups, special meetings and events.  The monitor also loops through various hotel pictures with descriptions promoting the rooms, restaurants and services the hotel has to o?er.  We also plan to sell advertising spots to area merchants and restaurants to promote their businesses.  If desired, we can switch the screen to full screen mode for viewing of sporting or major news events."
Link says there are plans in place to add monitor capabilities in guest rooms, fitness center and elevators when they are upgraded later next year.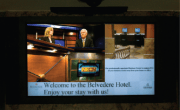 About ADFLOW Networks
Established in 2000 and a pioneer in the Digital Signage Industry, ADFLOW Networks has been providing award winning solutions including the development, deployment, and management of passive and interactive digital media networks. All of ADFLOW's Digital Signage networks are powered by ADFLOW's patented Dynamic Messaging System™. Headquartered in Burlington, ON, Canada with U.S. offices in Chicago, IL and Philadelphia, PA, ADFLOW has grown to become one of North America's largest Digital Signage and Interactive Kiosk providers.
LIKE WHAT YOU'VE READ?
When you subscribe you will also join other Digital Signage readers who receive our content right in their mailbox. Good luck!