DIGITAL SIGNAGE SOLUTIONS COMPANY IN AUSTRALIA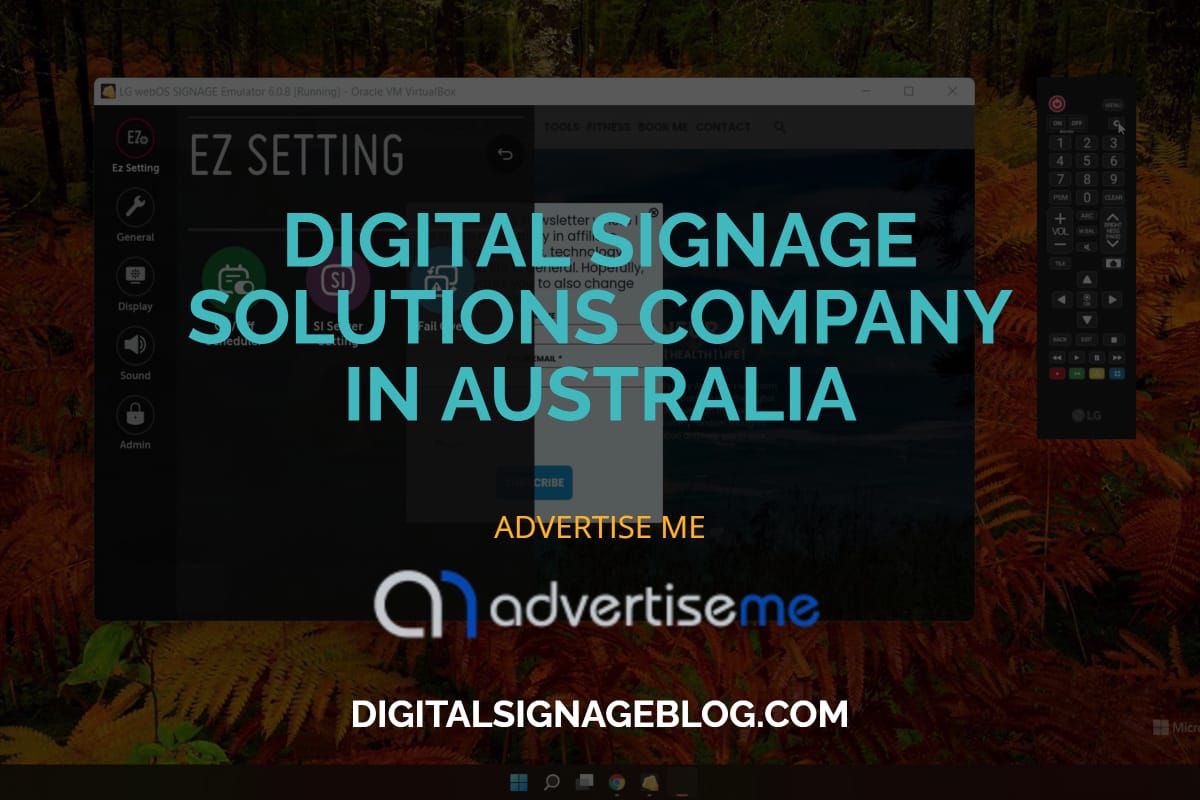 The use of digital signage solutions is becoming increasingly popular in Australia as more businesses realise the full potential of the technology. From interactive displays and multimedia presentations to dynamic content and real-time updates, digital signage solutions are helping businesses to better engage customers, increase sales and build brand awareness. For organisations looking for a digital signage solution company in Australia, there is no shortage of providers to choose from, each offering different services and capabilities. From experienced providers with years of experience to newer companies offering the latest in technology and innovation, there is a digital signage solution that is right for you and your organisation.
In Australia, one company that is leading the charge in the digital signage solutions field is Advertise Me. So what does Advertise Me do and what products do they offer?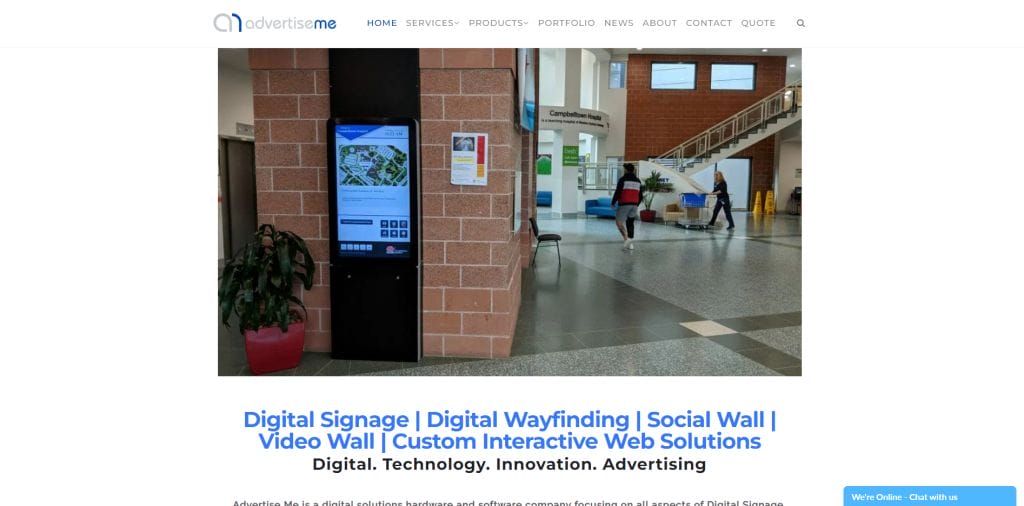 Digital signage solutions with best-in-class technology
Advertise Me is your premier digital signage solutions company in Australia. They have provided the best-in-class technology over the past decade to help businesses achieve their digital signage goals. Their digital signage software is called AdvertiseMe.TV enabled businesses to create engaging content and deliver it to customers in an impactful and memorable way. Through their digital signage solutions, businesses can showcase their brand, promote products and services, and use data-driven campaigns to increase customer engagement and drive sales. Their digital signage software solution is cloud-based, meaning you can manage the content from anywhere and you're not bound to being in the office. Their solutions are designed to fit any budget and provide superior customer service with the goal of helping you succeed. In addition, they provide different modules such as the Car Park, Staff Roster, News and Events, Survey Module, Social Wall, ePosters and Digital Wayfinding. You will only pay for these modules if you need them. In addition to these products, Advertise Me also offers a range of other digital signage solutions, including interactive kiosks, wayfinding signage, and digital advertising displays. They use the latest technology to create stunning visual displays that are engaging and effective.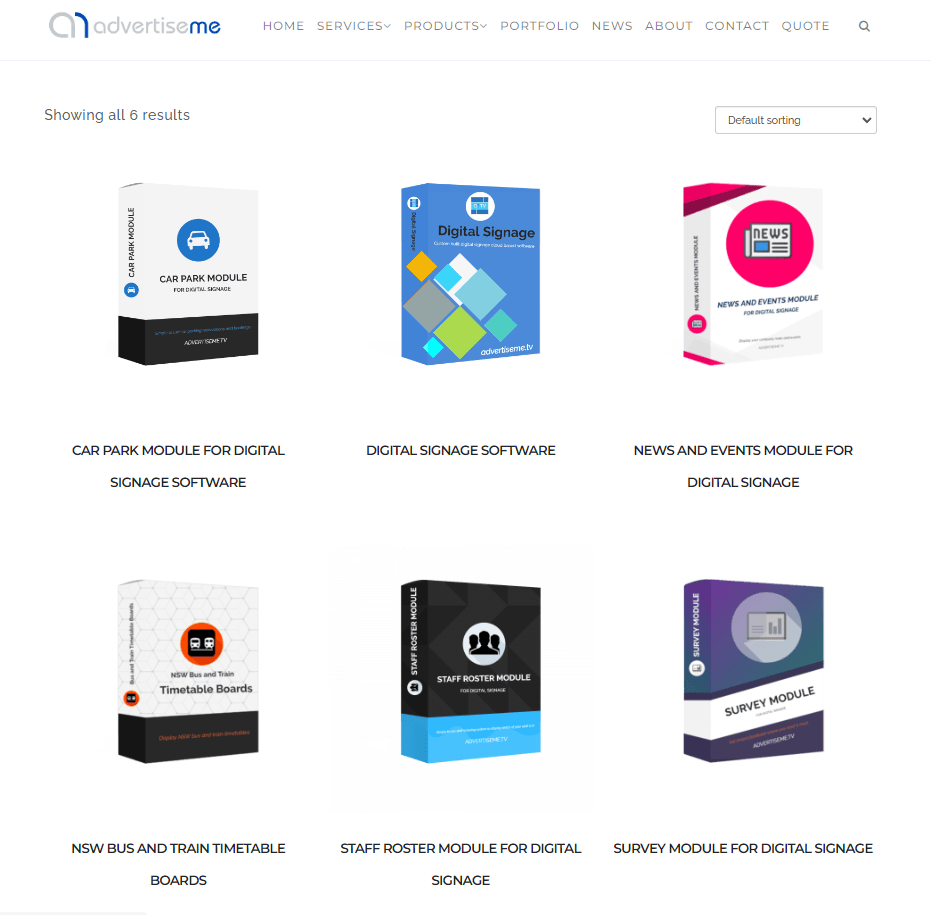 Innovative, high-quality displays for all types of industries
Advertise Me understands that digital signage solutions must be tailored to the individual needs of each industry and offer innovative, high-quality displays for all types of businesses. Their team of experienced digital signage professionals can provide custom solutions to meet your needs or supply you with a well-known and reliable digital screen. No matter what your industry, their digital solutions can help your business effectively communicate with your customers. From dynamic displays to interactive touchscreens, they have the latest technology to help you stand out from the competition. Advertise Me also offers digital signage solutions for corporate offices and other businesses. Digital signage can be used in reception areas, meeting rooms, and other locations to display important information, company news, and other content. Advertise Me works with clients to create customized solutions that fit their specific needs and branding.
End-to-end service and support
Advertise Me understands how important it is to have end-to-end service and support when it comes to digital signage solutions, particularly in Australia. They provide a comprehensive range of services and support, from designing and developing the right digital signage solution to maintaining and providing ongoing support and troubleshooting. This article Digital Signage Consulting Services details the comprehensive list of services they provide. Their team of highly-trained professionals is committed to providing the highest quality of service and support so that you can rest assured that you're getting the best possible digital solution for your business.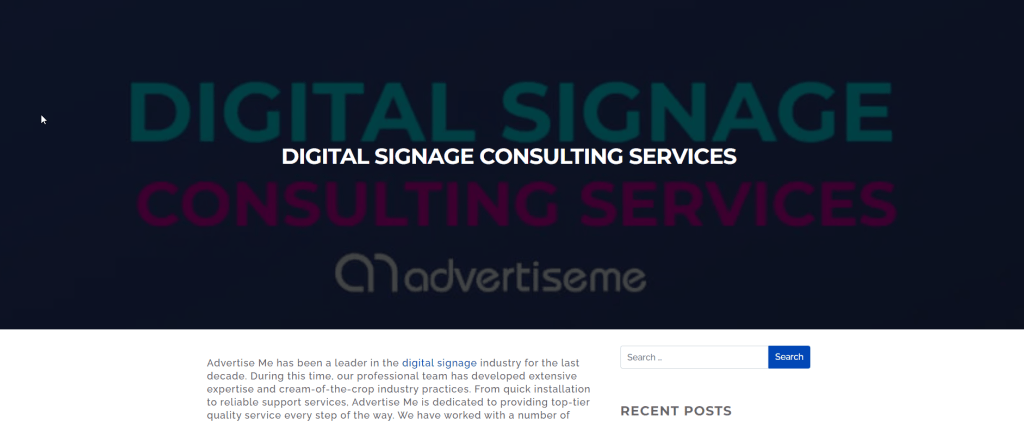 Comprehensive training and onboarding programs
Advertise Me offers comprehensive training and onboarding programs to ensure their clients receive the highest quality products and services. Their staff are trained in all aspects of their products and services, from installation to maintenance to troubleshooting. This includes training on the latest technologies, such as digital signage software, hardware, and content management systems. Their team of experts is available to assist clients during the onboarding process, ensuring they have the training and knowledge they need to make the most of their digital signage and digital solution investments.
Enterprise-level scalability
Advertise Me's digital signage solutions provide enterprise-level scalability. They understand that businesses in Australia have unique requirements when it comes to digital solutions, and that's why their team of experts work with you to develop a custom plan that meets your scalability needs. Their solutions are designed to grow with your business and can quickly scale up or down as needed, allowing you to benefit from real-time updates and added-value features. They will also ensure that their solutions are secure and reliable so you can rest assured that your data is safe and your business is running efficiently.
Robust content management system
Advertise Me's digital signage solutions can be used for a variety of applications. They offer a robust cloud-based modularised content management system that allows you to create, manage, and distribute content quickly and efficiently. Their system can be customized to meet the needs of any business, giving you the flexibility to build, store, and distribute content that is tailored to your audience. With their suite of digital signage solutions, you can customise content for different locations, different times of day, or any other criteria you need. Their content management system makes it easy to update your content quickly and easily, so you can continue to advertise your brand consistently and effectively.
Customizable solutions for businesses of all sizes
The biggest differentiating factor with Advertise Me is their ability to offer customisable digital signage solutions for businesses of all sizes in Australia. Whether you're a small or large business, their digital solutions can provide you with the perfect way to advertise your message to your target audience. Their digital signage software solution can display stunning, eye-catching visuals that engage your customers from the moment they enter your premises. They offer a range of options to suit your particular budget, along with the ability to customize the look and feel of your signage to reflect your brand and message.
Digital signage solutions are a great way to increase visibility and enhance the customer experience in Australia. With their ability to target specific audiences and enable interactive engagement, they can be used in a variety of industries, from retail to hospitality to education. Companies can choose from a variety of digital signage solutions providers in Australia, all of which offer unique features and services to help businesses get the most out of their investment but make sure you contact Advertise Me to learn more about our digital signage solutions in Australia.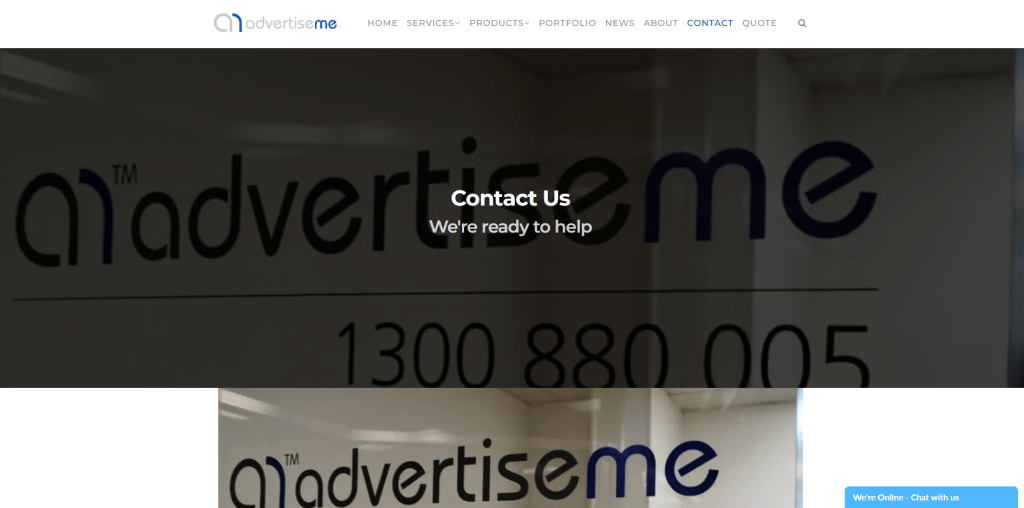 Advertise Me is a digital signage solutions company based in Sydney, Australia. They specialize in creating customized digital signage solutions for businesses of all sizes and industries. Their team of experts works closely with clients to understand their unique needs and develop a solution that meets their specific requirements. One of the things that set Advertise Me apart from other digital signage solutions companies is their focus on providing exceptional customer service. They work closely with clients throughout the entire process, from initial consultation to installation and ongoing support. This ensures that clients are fully satisfied with the final product and that it meets their needs.
LIKE WHAT YOU'VE READ?
When you subscribe you will also join other Digital Signage readers who receive our content right in their mailbox. Good luck!

Our Sponsors
Advertise Me

We provide custom digital advertising solutions. We supply display screens, Video Walls, Touchscreens, Wayfinding, WordPress Plugins, create custom applications and basically implement any technology that is innovative.

Social Wall

Social Wall is a simple and easy to use tool to aggregate and display social media posts on any digital medium