Visix just added a super-slim media player to their digital signage hardware portfolio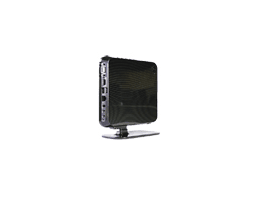 Visix, designs, develops and supports a suite of browser-based digital signage products that allows users to create, manage and schedule organizational communications from anywhere and to deliver messages and media to virtually any endpoint. The company offers digital signage software, meeting room signs, and applications for targeted messaging to desktops and portable devices. They have recently released a super-slim media player called the Ultra-Mini Form Factor Channel Player
Here's the specs:
Dimensions: 7.5"w x 6"d x 1"h
Weight: 2 lbs.
Power: 60 Watts
Processor: Intel Atom 525 (1.8GHz)
Motherboard: Custom with Intel NM10 Chipset
Memory: 2GB
Hard Drive: 320GB
OS: Windows Embedded
(Windows 7 Enterprise Edition optional)
Network: (1) LAN Port, built-in B/G wireless
AV Outputs: (1) HDMI, (1) VGA
Here's a picture of the unit:

This unit replaces a former model and offers a host of improved features such as:
Thinner form factor
Faster processor
More memory
New operating system
Smaller power supply
Supports two add-on cards
Visix content management technologies are deliverable as software-only or an integrated product. Visix can provide imaged hardware or clients can configure Visix software on their own PCs. Visit their website for more info.
LIKE WHAT YOU'VE READ?
When you subscribe you will also join other Digital Signage readers who receive our content right in their mailbox. Good luck!