Telstra & ANZ go live with Longreach at Qantas Airport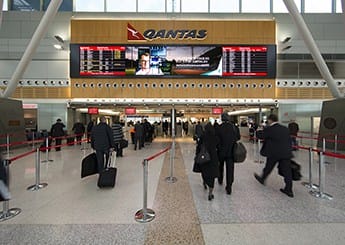 Eye Corp has just announced that Telstra and ANZ are the first advertisers to use the 'Longreach' system. This is Eye's newest digital Out of Home network in Australia and is located in the busy check-in area in the Sydney, Melbourne, Brisbane and Perth Qantas terminals. According to the announcement there are about 330,000 passangers that travel with Qantas weekly.
The size of the LED screens are huge – 8.8m x 2.6m and are connected to the Internet for easy and flexible content scheduling. Each side of the screen includes the Qantas Flight information Display System. Here's the full article http://www.eyeoutofhome.com/our_news/item/1262
LIKE WHAT YOU'VE READ?
When you subscribe you will also join other Digital Signage readers who receive our content right in their mailbox. Good luck!