Testing the Spinetix Digital Signage Player Hyper Media Player HMP100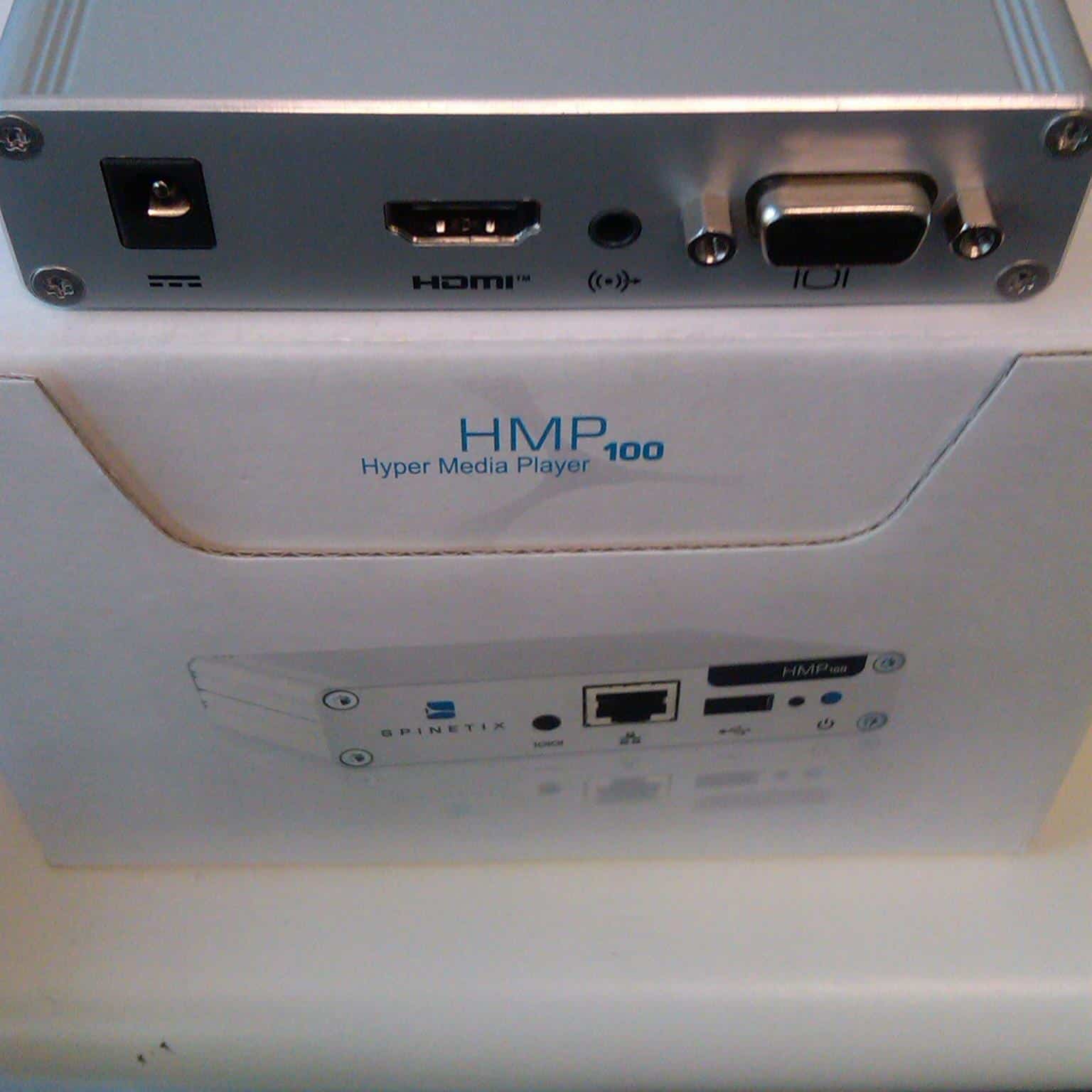 Undoubtedly the smallest digital signage player we've seen on the market – the size is 105(W) x 26(H) x 83(D) mm
. The Spinetix [pronounced as "spenetix" or something like that] player is one great little unit and we're currently testing and reviewing the product so watch this space. Apparently the unit has lifetime warranty!!!
Here's some pictures of the unit.
Here's the specs of the unit:
Digital Display Compatibility
Aspect ratio 16:9, 16:10, 4:3 (horizontal & vertical)
Video output 50/60 Hz: 720p (1280×720), XGA (1024×768), WSVGA
(1024×640), WVGA (768×480), 576p (720×576), 480p
(720×480), SVGA (800×600), VGA (640×480), EDID
24/25 Hz: 1080p (1920×1080; only for semistatic content)
Video connectors HDMI (incl. digital audio), DVI via adapter. VGA (DB15 HD
connector). Simultaneous use of HDMI and VGA possible
Media Format
Description language SVG Tiny 1.2+ (Scalable Vector Graphics)
Media synchronization SMIL 2.1 (Synchronized Multimedia Integration Language)
Still image formats JPEG, PNG, GIF, SVG
Supported video codecs Up to SD resolution: MPEG-4 ASP, MPEG-2, MPEG-1,
H.264, MJPEG, Microsoft VC-1 (Windows Media Video 9)
Supported audio codecs MPEG audio layer 1/2/3 (MP3), ITU G.711, G.722,
G.729,PCM, Microsoft WMA, Real Audio
Media container formats AVI, WMV/WMA, VOB, AIFF, OGG, WAV, MOV (Quicktime)
Streaming media protocol MMS, RTSP, RTP, SDP, HTTP; Uni- & multicast
Import filters provided for Flash 9, Microsoft PowerPoint presentations, BMP, TIFF,
XPM, WBMP, PNM bitmaps
Scripting language PHP5, JavaScript, ECMAScript
Content scheduling iCalendar (RFC2445)
Graphic Effects Engine
Graphic effects language SVG Tiny 1.2+
Vector graphics primitives Rectangles, polygons, paths with lines, elliptical arcs and
Bezier curves, text areas, linear and radial gradients
International text support Unicode standard compliant with bidirectional text support
Font file formats TrueType and OpenType
Animation capabilities Color, gradients, transparency level, audio volume, motion
along a path, translation, scaling, rotation, clipping
Animation modes Discrete, linear, paced and spline interpolation
Specialized Applications
Kiosk applications Touch screen, keyboard/joysticks/gamepads/mouse, HID
I/O devices via USB 2.0 or user defined serial port, with
touch screen calibration
Event management Real-time event communication for triggering content
changes on-demand
Time synchronized Millisecond accuracy, for unconstrained
video wall configurations
Streaming Video and audio streaming compatibility, including
live TV streamers
Network
Connectivity Ethernet 10/100 Mbit/s (RJ-45), IEEE 802.3u, 802.3x
3G connectivity through USB modem stick;
Protocols DHCP or fixed address; IPv4; IPv6;
Remote configuration HTTP(S) configuration server, password protected
Content administration WebDAV server, password protected
Other protocols SNMPv1/v2c, NTP, Zeroconf
Content updates Pull mode, push mode, server based

Storage
Internal storage 2GB solid state
External storage Flash drives and hard disks via USB 2.0 port

Physical Specification
Size 105(W) x 26(H) x 83(D) mm
4.13'(W) x 1.02'(H) x 3.27'(D)
Weight 190g / 6.7 oz
Power supply 5V DC, typ. 0.4A (2W)
Power supply input 100-240V 50-60 Hz, max input current 0.6A
Operating temperature 0-40ºC / 32-104ºF; 10-90% RH
Storage temperature -25ºC to 45ºC / -13ºF to 113ºF; 10% to 90% RH
Real time clock Min. accuracy 1 minute/month free running, battery
backed
Serial RS232, up to 115200 bauds, mini-jack 3.5mm
Analog audio output Line level, stereo, mini-jack 3.5mm
LIKE WHAT YOU'VE READ?
When you subscribe you will also join other Digital Signage readers who receive our content right in their mailbox. Good luck!