Product Review: Panasonic Embedded Player ETX1312C1000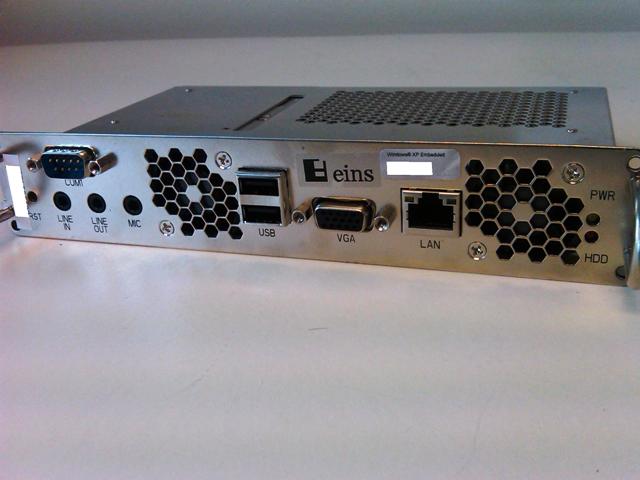 This week we want to share with you another great Panasonic product we use for our digital signage installations. It is the Panasonic Embedded Player ETX1312C1000 which can only be used with Panasonic Plasma screens with the Slot compartments. These units come with pre-installed Windows Embedded XP or Linux and are just like any other ordinary PC's except that they allow you to hide these in the actual screens. The current unit only has 1GHz processor which can sometimes Videos with scrolling ticketers to lag, although we've heard rumours that there is an new model being released which has much higher CPU specs. The embedded player actually takes up two slot compartments so you need to be aware of this.
Below are the specs from Panasonic's website:

Key Benefits:

Embedded Design

The PC integrates seamlessly into a Panasonic professional plasma.
It minimises the need for cabling, making installation easier, removing the
need for a separate PC or an extra air conditioning unit to keep it cool.

Control

Change the way you communicate to staff and customers. Enjoy the flexibility of updating your content in real time, when you want it, where you want it and as often as required.

Power

A single power source ensures that no additional power is required.
With an ultra low voltage chip of 15 watts, energy usage is lower than a light bulb.

Reliable

Based on an industrial grade PC platform, the system is stable and reliable for uninterrupted playback of multimedia content.

Speed

Unlike traditional forms of signage such as billboards and point-of-sale posters, the digital signage solution allows dynamic and rich content, ensuring fast transfer of information via the screens.

Scalable distribution

The application is scalable from one screen to thousands of screens nationwide, networked via wireless, WAN, LAN or satellite distribution.

Low Noise

Low noise operation makes Panasonic professional plasmas suitable for hospitals, hotels, libraries and museums.

Embedded PC: ETX1312C1000

1GHz ULV Intel Pentium Celeron Processor
Dimension: 203 (W) x 32(H) x 125 (D)mm 2-Slot Size
Supports LVDS and CRT Interface
Supports both Landscape and Portrait Display Mode
512 MB DDR SO-DIMM
2.5″ 40GB HDD & Compact Flash Interface
10/100 Base-T LAN x 1
Max. 15W Power Consumption Intel 82855GME/ICH4 Chipset
OS: Windows XP or XP Embedded or Linux (optional)
4x USB 2.0 Ports (2 Connectors @ Terminal & 2 Headers on Board)

Interface: (2x USB2.0, 1x COM (RS232), 1x LAN (RJ45 w/ Status LED),
3x Audio Jack Connectors for Line Out, Line-in & Mic)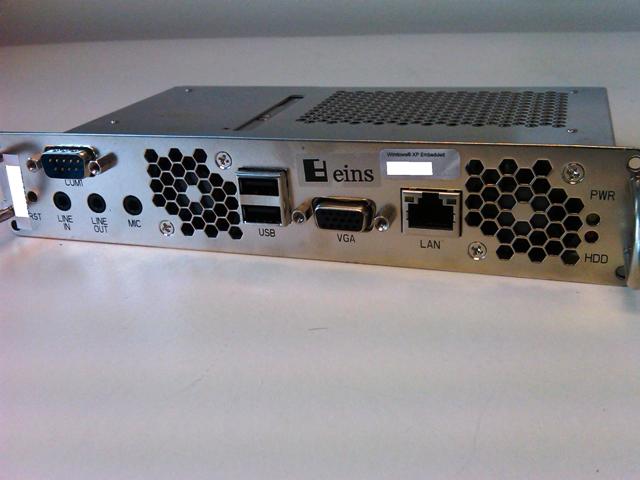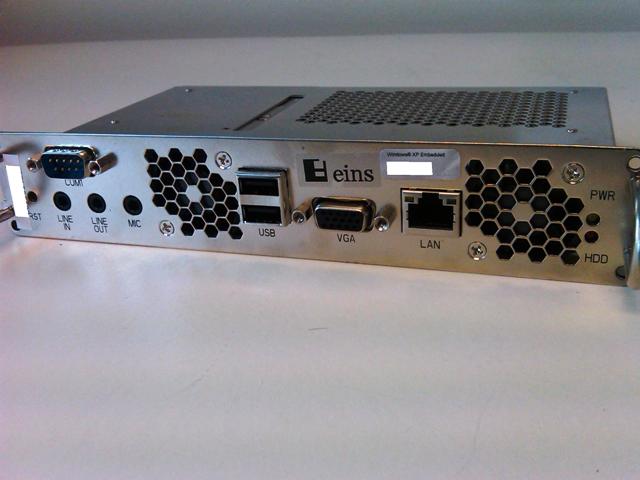 LIKE WHAT YOU'VE READ?
When you subscribe you will also join other Digital Signage readers who receive our content right in their mailbox. Good luck!