University Of New South Wales installs digital signage in Hospitals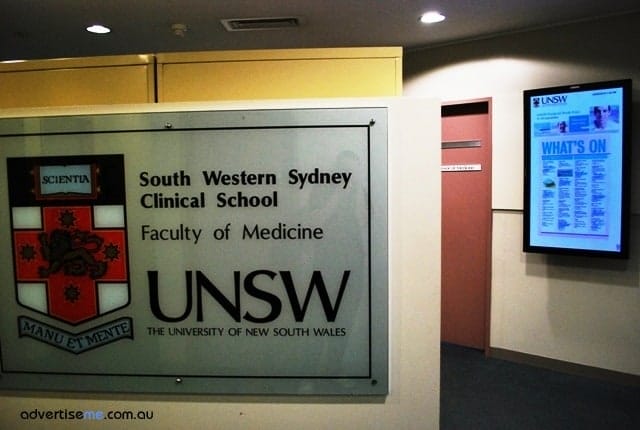 Last month we were engaged to install the Digital Signage Solution for the UNSW (University of New South Wales) Western Sydney Clinical Studies in one of the major hospital in NSW.
The South Western Sydney Clinical School (SWSCS) was established in 1990 and it is unique to the UNSW city clinical schools in that it embraces multiple campuses, allowing access to a broad and diverse range of health care services delivered to a large (approximately 800,000 people) and diverse population.

The SWSCS is centered at Liverpool Hospital (600 beds), a principal tertiary referral hospital for the South Western Sydney Area Health Service (SWSAHS). An active teaching and research programme is also run at Bankstown-Lidcombe Hospital (400 beds; the second principal referral hospital in SWSAHS) and at Campbelltown and Fairfield Hospitals, as well as a number of other facilities.
Requirements
The requirements for this digital signage project were:
The large screens needed to be in portrait rather than landscape
Screen needed to be mounted against the wall
Display different content including websites, timetable, presentations, images, RSS uni news etc.
Needs to be scalable and flexible
A dedicated CMS server hosted at the main Hospital Campus
Players needed to be embedded in the screen since there was no space to store these
The Solution
The solution we provided the University consisted of the following:
CMS Dell Server
PADS Digital Signage Software
Panasonic Screens with embedded players
Adtec wall bracket
As usual we worked with local staff and the IT network engineers to connect the players to the UNSW network. We've got more screens and players to install but for now have a look at the some of the below photos:
LIKE WHAT YOU'VE READ?
When you subscribe you will also join other Digital Signage readers who receive our content right in their mailbox. Good luck!