Digital Signage Klips: Advertise Me snaps for 2010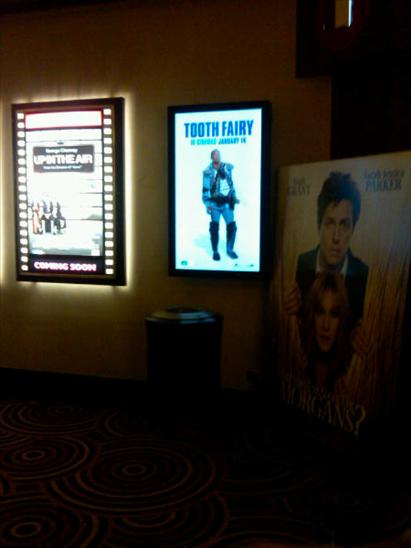 At the end of last year we asked our readers (https://www.digitalsignageblog.com/2009/12/04/klips-share-your-digital-signage-snap/) to send us digital signage Klips so we can share with the rest of the world. We decided to kick off the year with our own Klips that we've taken whilst being out and about. You can view these here http://tweetphoto.com/user/advertisemeAU and make sure you follow us in twitter (http://www.twitter.com/advertisemeAU) so you can receive our latest updates. Let's review some of these digital signage Klips and implementations:
| | |
| --- | --- |
| | I noticed this whilst waiting in line at the cinemas. The screen in portrait mode was next to other static lightboxes which nicely blended in with the surroundings. The screen was positioned right in front of the exit door which should have captured the attention of people exiting the cinema room but I noticed that not even one person looked at the screen. The screen was also right next to the bin which I think was strategic. From what I could observe, only the people standing in line waiting to enter the cinema room noticed the screen. |
| | This got my attention as soon as I walked past the window. The screen was installed in an enclosure that looked exactly like an iPhone and was surrounded by Christmas decorations that looked like a Christmas tree. Was very effective but it would have been better if it was a touchscreen so that it could simulate a real iphone. |
| | This was quite an innovative and unique design. Unfortunately, the video wall which had 8 screens were all turned off. There were also other screens displaying advertisements located in that structure. |
| | The virgin kiosks were different, in a sense that there were screens located at the top of the kiosk which was displaying the same content as the kiosk screen. I like the idea that you could purchase and download music files to your USB stick. |
| | I noticed this Britney Spears perfume stall when I was in Myers. Quite a number of people were just taking photos of this and hence the reason it was brought to my attention. I somehow managed to take a photo of the screen at the exact time when the digital content was the same as the static poster. Try to spot where the screen is located. |
So there you have it. We've started the year with various digital signage Klips and implementations and we look forward to receiving more digital signage Klips from our readers – email the images to info@digitalsignageblog.com. Please note due to the large number of Klips we receive, we cannot post all of these so we would also like to apologise in advance.
LIKE WHAT YOU'VE READ?
When you subscribe you will also join other Digital Signage readers who receive our content right in their mailbox. Good luck!