Weekend Fun: When digital signage goes wrong, do you rely on Windows or Linux?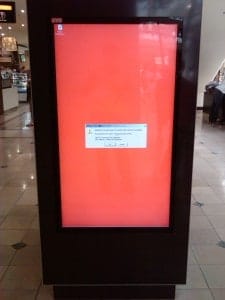 Coincidently on my third trip back to Melbourne for a digital signage project rollout, I came across something that is too familiar to me.
Almost 9 out of 10 times when digital signage goes wrong through my observations, they are running Windows. There is no perfect system out there regardless what hardware, operating system, or configuration you may have, but according to Murphy's Law, when something does go wrong how do control it? Does your software allow you to show an exception or alternate display?
Weirdly enough, these observations have now become second nature to me, whereby I notice all other people would just walk right past it. Not to mention the urge for me to take out my blackberry to snap it.
LIKE WHAT YOU'VE READ?
When you subscribe you will also join other Digital Signage readers who receive our content right in their mailbox. Good luck!