DIGITAL SIGNAGE FAIL – WINDOWS 10 UPDATES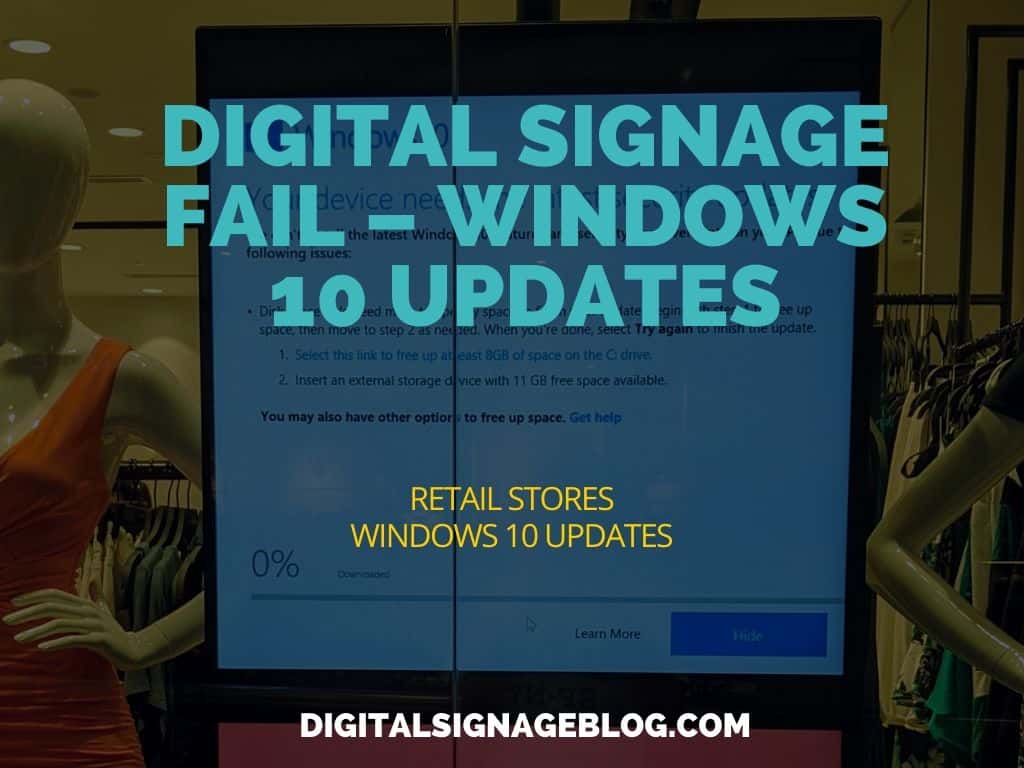 I came across this digital screen showing a Windows 10 error message. The error message is self explanatory: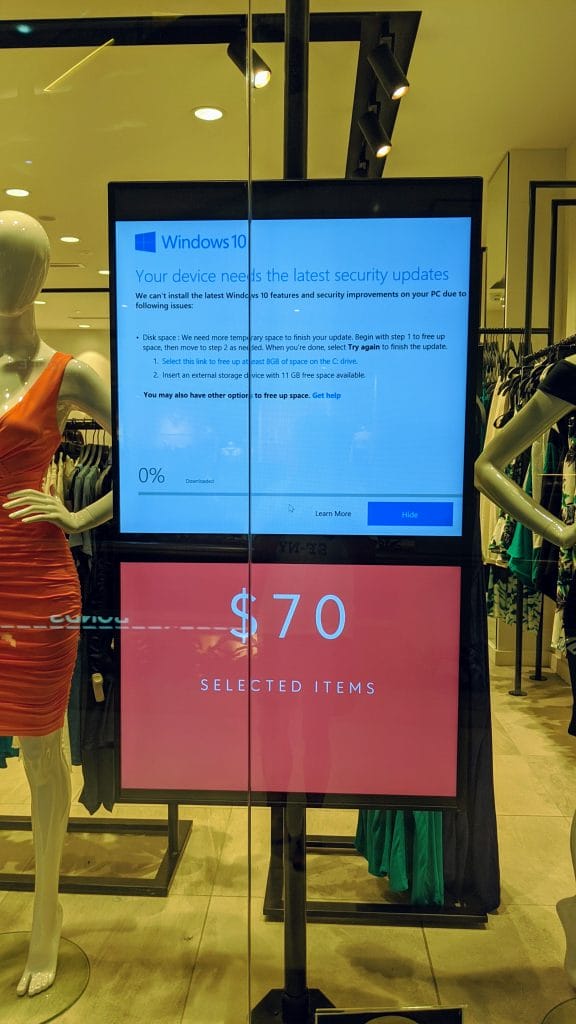 FAIL FEATURES
Content is not displaying
Stuck at the setup stage of downloading the Windows 10 Updates
SUGGESTIONS/RECOMMENDATIONS
I couldn't tell what type of screen this retailer was using but it's possible it had an external player or OPS device plugged into it. Due to the storage limitation, the Windows 10 is unable to perform the updates until there is enough storage. As per the popup notification, the option is to clean up the local disk space (at least 8GB) or use an external storage device with at least 11 GB.
If the digital signage network provider has a remote control software tool, they can remotely login and do the cleanup. If they don't then we would recommend for the staff member to perform one of these tasks:

turn off the device so the screen is not displaying the error message
plug a mouse and perform the disk cleanup (maybe a bit too technical for the staff member)
plug a mouse and press the hide button so that popup notification window is hidden. Then wait for the digital network provider or the IT team to fix the issue

Upgrade the storage space on the device. If it's using an onboard storage chip, then there will be no option to upgrade the storage space. In this case, upgrading to an external digital signage player with upgradeable storage would be the best option
Disable Windows 10 updates on the digital screen
Hire a digital signage company to monitor the screens so that they can quickly resolve these issues
If you have seen or would like to share a FAIL photo with the rest of the digital signage community please send it to info @ digitalsignageblog.com
Please also include the FAIL FEATURES and SUGGESTIONS/RECOMMENDATIONS
NOTE: We will not be naming any companies/businesses or the location of where the photo's were taken but we just want to highlight what went wrong, possible ways to remedy the problem and how to possibly avoid the same issue.
LIKE WHAT YOU'VE READ?
When you subscribe you will also join other Digital Signage readers who receive our content right in their mailbox. Good luck!