DIGITAL SIGNAGE FAIL – OVERHEATING ISSUES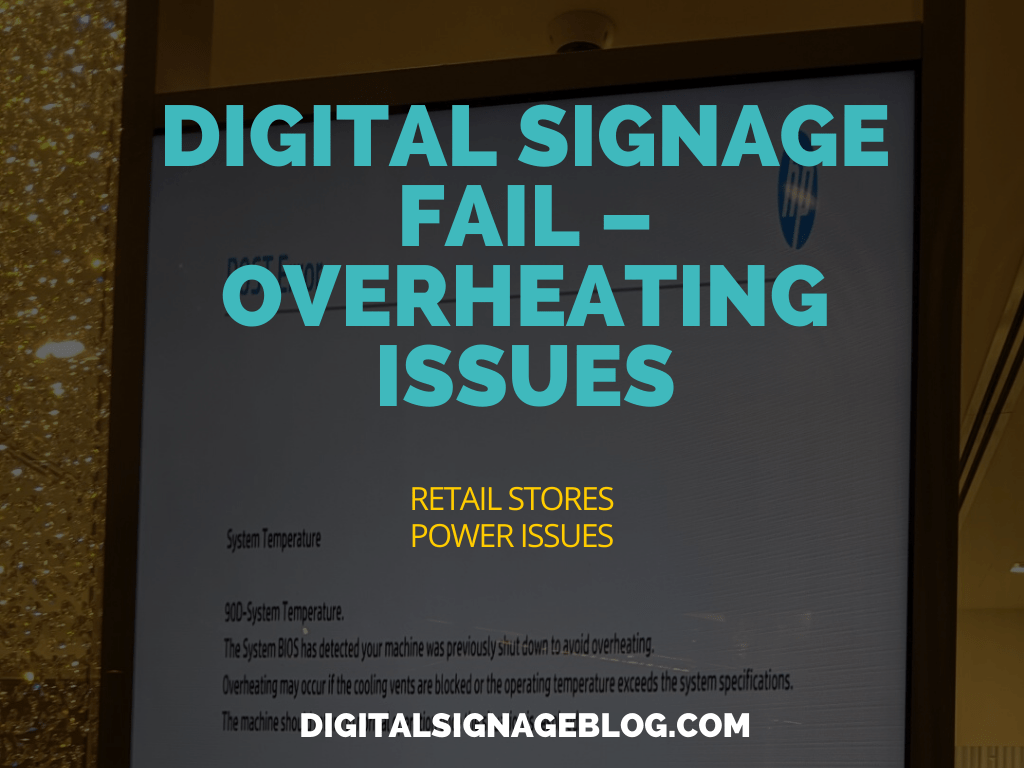 I was walking past a retail store and saw a screen with a message I've never seen before. The message had:
POST ERROR

System Temperature

900-System Temperature.

The System BIOS has detected you machine was previously shut down to avoid overheating. Overheating may occur if the cooling vents are blocked or the operating temperature exceeds the system specifications. The machine should return to normal operation once the situation is resolved.

Press ENTER to continue.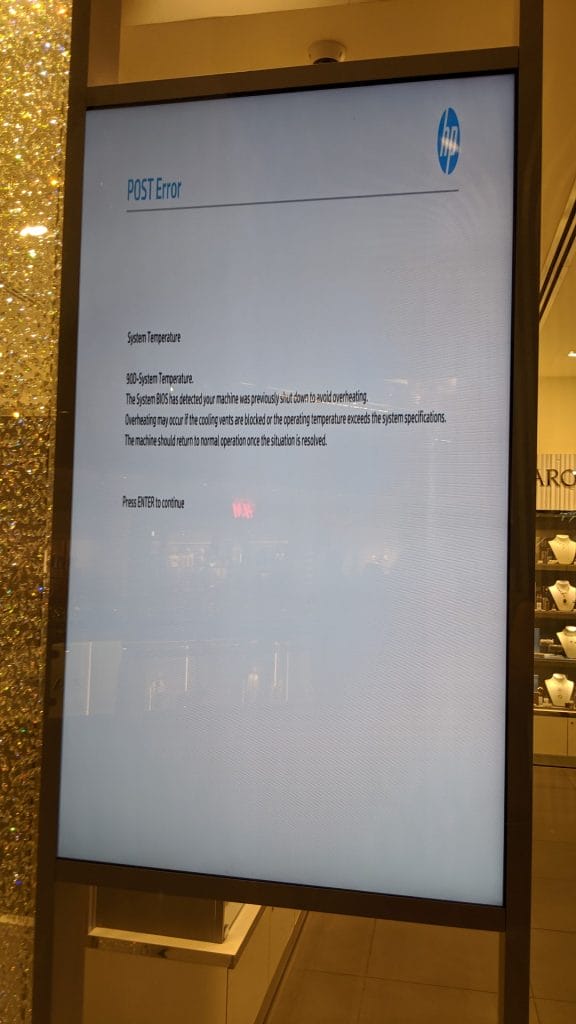 FAIL FEATURES
Content is not displaying
Error message is displaying
Need to press the Enter key to continue
SUGGESTIONS/RECOMMENDATIONS
It's hard to say whether there was actually any issues with ventilation or air flow as we couldn't inspect the back. Our assumption is the screen is enclosed and there are no air vents to blow out the hot air.
We've never used HP digital signage screens but we're assuming it has an internal media player. Since the error is POST boot this message will be displayed until someone presses the ENTER key. The only problem is if it's in an enclosure access to the USB port to plug in the keyboard might be challenging and it's not something the local retail staff is able to do.  For some of our retail stores, we do provide instruction on how to recover the system in the event of such failures
Unfortunately, since the issue is related to BIOS there are no remote tools that support staff can use to remotely connect to the device. Some screens and digital players do have a WOL feature where you can remotely restart the unit but in this particular case, it may end up on the same screen
We suggest the retail store or digital signage network provider to look at the root cause of the issue and see if maybe even the fans on the digital screen are working. It's possible the fans are not functioning as expected due to dust accumulating over the year and has caused the fan to be faulty
There are remote power smart plugs that can be potentially used to restart the units but as mentioned above, the root cause of the issue needs to be investigated
If you have seen or would like to share a FAIL photo with the rest of the digital signage community please send it to info @ digitalsignageblog.com
Please also include the FAIL FEATURES and SUGGESTIONS/RECOMMENDATIONS
NOTE: We will not be naming any companies/businesses or the location of where the photo's were taken but we just want to highlight what went wrong, possible ways to remedy the problem and how to possibly avoid the same issue.
LIKE WHAT YOU'VE READ?
When you subscribe you will also join other Digital Signage readers who receive our content right in their mailbox. Good luck!

Our Sponsors
Advertise Me

We provide custom digital advertising solutions. We supply display screens, Video Walls, Touchscreens, Wayfinding, WordPress Plugins, create custom applications and basically implement any technology that is innovative.

Social Wall

Social Wall is a simple and easy to use tool to aggregate and display social media posts on any digital medium