THE USE OF DIGITAL SIGNAGE AT CANCER THERAPY CENTRES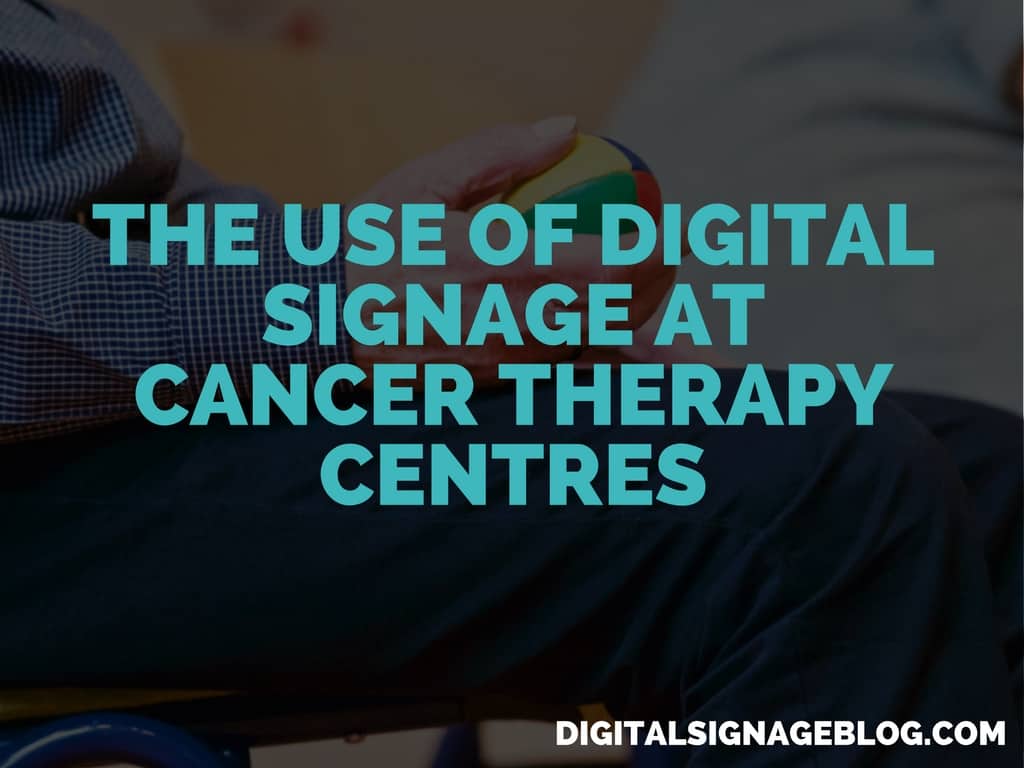 For many people, it's hard to imagine what everyday life must be like for someone who has been diagnosed with cancer and is undergoing treatment.
There are countless medical appointments, an infinite number of questions about the journey ahead, the fear of the unknown and the struggle of dealing with everyday life situations including knowing what is the right decision regarding what treatment is out there and what will work for you.
One aspect of cancer treatment that is evolving is the amount information available to patients, how patients and physicians can access that information and how that information can be used to best treat individual patients.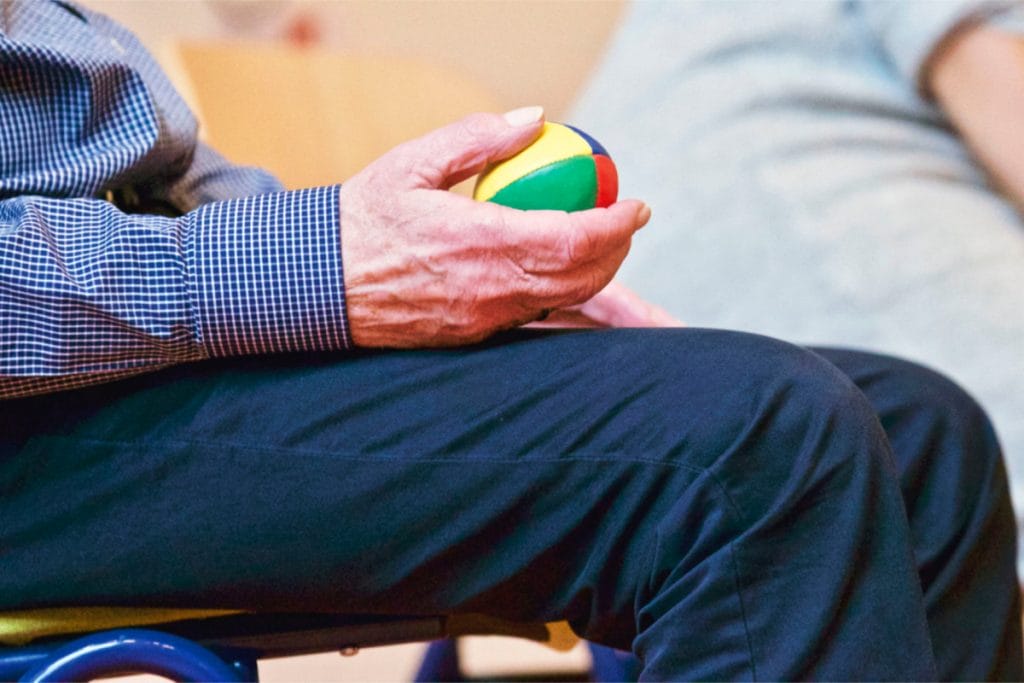 The founder of Tempus, Eric Lefkofsky has talked about how personalized cancer treatment is important to improve patient outcomes. But how does this work in practice? One example of this is how Tempus is using the data gained from the treatment of others to provide tools to learn, gather and provide more data about how treatments can be better targeted to specific patients. What works for one does not necessarily mean that it will work for everyone else but with enough information, you can work out what may suit one person based on similar characteristics.
This approach of individualized care through the analysis of data ensures that the best treatment for the individual is chosen at the earliest opportunity. This approach is not only reflected in cancer research taking place at places like Tempus but is evident in the information being provided to patients with the use of digital signage at Cancer Therapy Centres.
Cancer Therapy Centres provide cancer services to patients such as Oncology Consultative Services, Chemotherapy, Radiation, Allied Health and Support Services. For this reason, most cancer patients undergoing treatment spend a considerable amount of time at Cancer Therapy Centres. These centres provide a unique opportunity to gather and share information about cancer treatment.
An example of how cancer patients are receiving personalized care is when Advertise Me provided the Cancer Therapy Centre in Campbelltown Hospital with a digital signage system. The digital signage solution communicated updates to patients on things such as which staff are on shift and where there was a delay. This quick and easy method of providing access to information empowers patients, frees up time for staff doing their job and helps to create a more relaxed environment. This is one aspect of individualized patient care that helps the comfort of patients dealing with a stressful situation.
In addition, the digital signage system allows information about treatment and illness management and information about procedures and policies to be provided to patients in an easy to understand way. It is a great way to target a specific audience because information can be altered or scheduled to focus on particular patients or category of patients without being obtrusive. See below example, the same system can also be applied to medical centres and hospitals: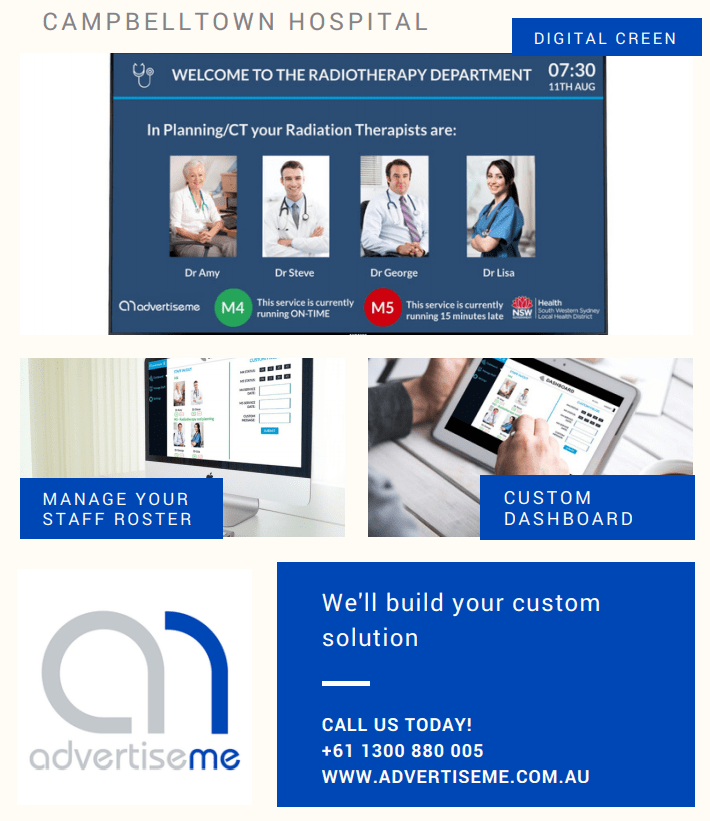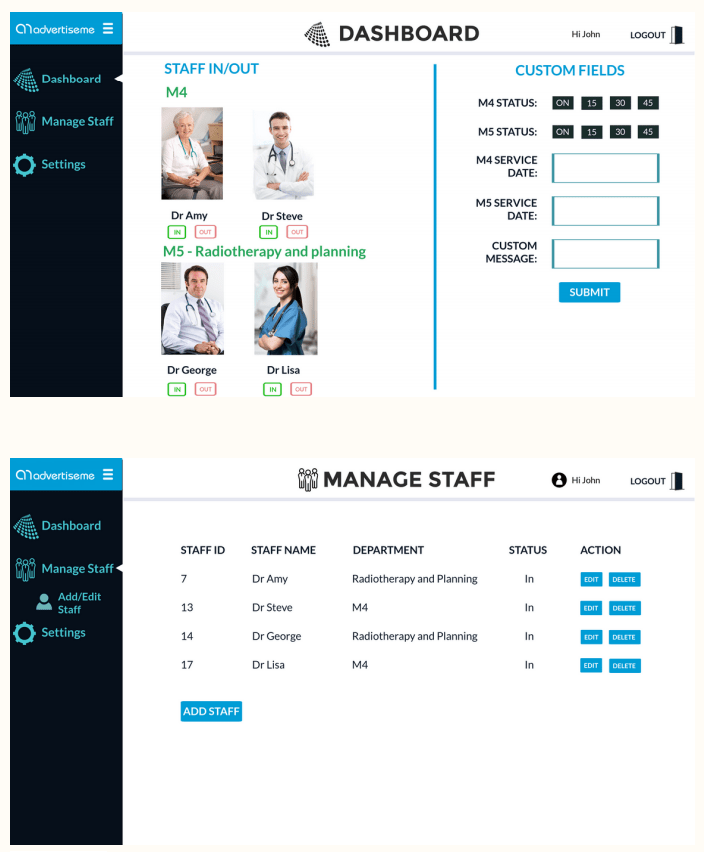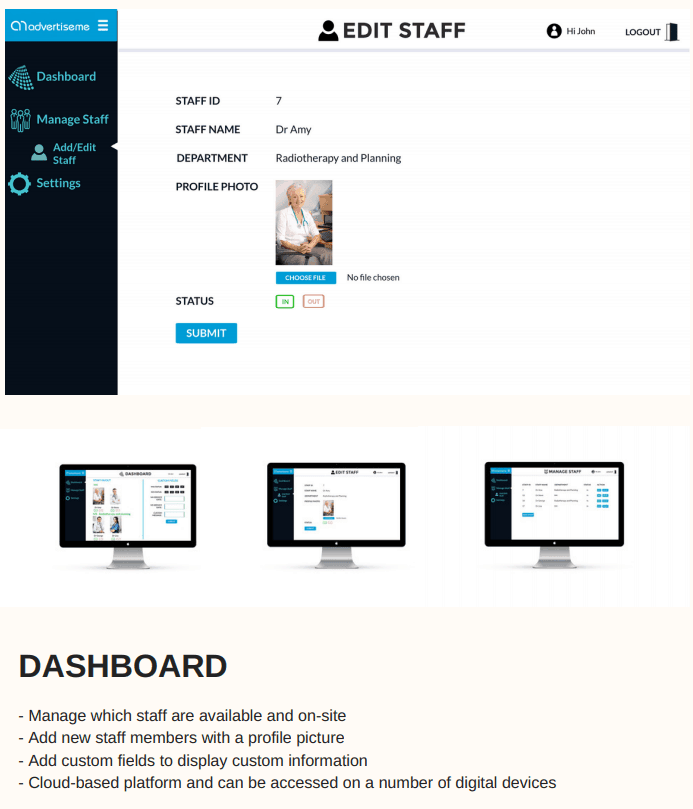 The ability to use data to help specify cancer treatments and the ability to inform specific patients about information that is only relevant to them helps to ensure that patients are treated as individuals.
AUTHOR BIO
Anna is a copywriter and has a curious mind. She likes to read and find out about things. She has great research skills and the ability to present complex issues in a simple way. She likes to write and express her thoughts and opinions. She likes to ponder and then ponder some more to see how her ideas and words match up. She's creative. She's whimsical. She's optimistic.
If you liked this article and need Anna to write for you then visit her website: http://awhimsylife.com/
LIKE WHAT YOU'VE READ?
When you subscribe you will also join other Digital Signage readers who receive our content right in their mailbox. Good luck!

Our Sponsors
Advertise Me

We provide custom digital advertising solutions. We supply display screens, Video Walls, Touchscreens, Wayfinding, WordPress Plugins, create custom applications and basically implement any technology that is innovative.