How To Make The Most Of Your Digital Signage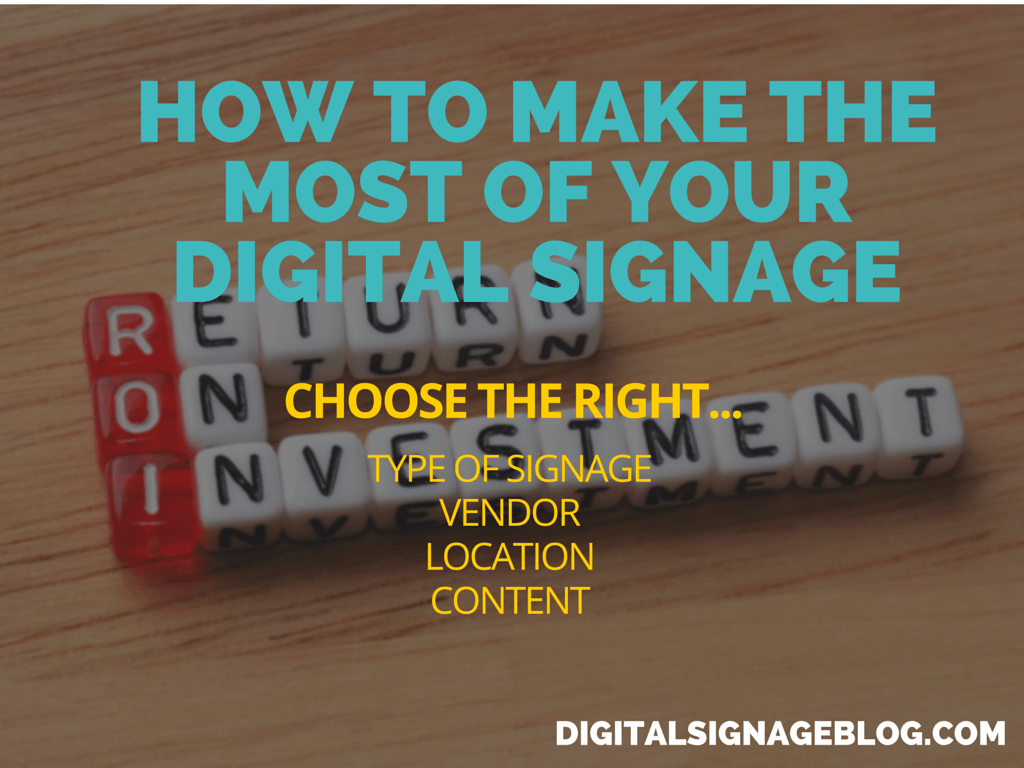 Digital signage is a big investment—of your time, effort, and money. The last thing you want is to devote your resources to it and not get a great return.
Luckily, there are some steps you can take to ensure that you make the most of your digital signs and get the best possible ROI.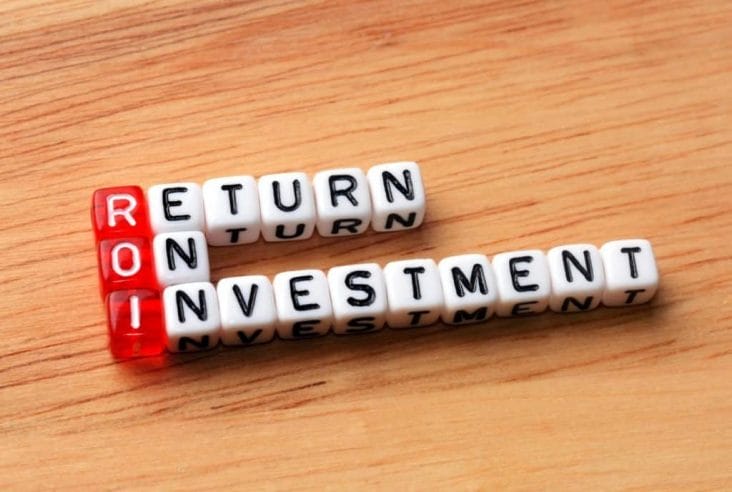 How To Make The Most Of Your Digital Signage
Choose the right type of signage.
There are tons of different types of digital signage—LCD screens, touchscreens, kiosks, media panels, video walls, and more—and each serves a different purpose. There are signs that are hard-wired (which require cables to be run throughout your establishment) and signs that are wireless (which use the cloud to save and transfer data).
Hard-wired signs usually include touchscreens and kiosks, and are generally more expensive because of both the technology and installation requirements. LCD displays, HDMI-enabled TVs, and wireless hardware are cheaper and require less work to install.
The type of signage you choose should depend on your goals, needs, and budget. To figure out what your needs are, ask yourself these questions:
Do I need to improve communication with customers?
Do I need to increase in-store spending?
Do I need to keep customers in my business longer?
Do I need to increase occupancy growth or foot traffic?
Does my business need more visual appeal?
Do I need an easier form of advertising?
Your answers to these questions can clue you in on the best signage. For example, if you're wanting a way to improve communication, simple signage that gets your point across clearly will be your best bet. If you're looking for more visual appeal or the extra "wow" factor, flashier touchscreens or video displays might be right for you. Just keep in mind that your goals will have to align with your budget.
Choose the right vendor.
There are just as many signage vendors as there are signage types, and each one provides a different service for a different price. It's important to do the proper research beforehand to make sure you'll be working with the right one.
If you can, ask each vendor you consider some (if not all) of these important questions:
What industries do you typically serve? Do you specialize in a certain area?
Is your digital signage web-based?
Can updates to your software be done remotely?
What is your pricing model?
Will we own the hardware outright?
How much training is available after I purchase?
What kind of screens should be used with your hardware and do you provide them?
Do you install the signage?
Does your signage have interactive capabilities? If so, what?
Finding out an initial price for digital signage will be tricky—most providers are hesitant to give even an estimated cost because pricing varies widely based on the needs of the project. But you can find out if their signage equipment is available for purchase, lease, or software as a service (SaaS).
SaaS models require you to pay an initial fee upfront, and then recurring monthly costs. Other models will sell you the hardware and/or software for a flat fee from the beginning, with no additional costs. Figure out which pricing type would be best for your company, and then find out if the vendor you like uses that model. 
Choose the right location.
Once you've chosen a signage type and vendor, you'll need to come up with an effective placement strategy. (After all, a sign that's in a poor location is as effective as no sign at all!) Knowing where to put your signs will depend on what you plan to accomplish with them.
To increase foot traffic, place signs right outside your business or in a front window display.
To inform or increase awareness of products, services, or events, place signs near the entrance, at the front of aisles, or at the front of each department.
To entertain, place signs in areas with long waits—by registers, waiting rooms, or elevators.
To influence purchasing behavior, place signs on shelves near the products you want to promote.
The height and angle of a screen are also important for viewership. Hanging screens higher from the ground makes them viewable from a farther distance, but hanging them too high will leave them unnoticed completely. The wrong angle can also make them harder to see. Signs placed below eye level should be angled upward, and signs placed above eye level should be angled downward.
You should also avoid putting signs in overly lit areas. If there is a lot of ambient light in your business and screens are placed near windows, the daylight can overwhelm and wash out your screen. Check the lighting before permanently installing a sign.
Choose the right content.
After you've got the right signs, the right provider, and the right location, you'll need the right content—this may be the most important part of it all. Without good content, your viewers will have no reason to look at your signs, therefore making them a waste of valuable resources.
The best content for digital signs is engaging, and engaging content is usually interactive. Interactive content commands attention, provides entertainment, educates, and creates a personalized experience. There are several types of effective interactive content, and you don't even need touchscreens to take advantage of them—users can interact via their mobile devices. Here are some examples:
Photo sharing
Trivia
Contests
Social media
TV/video
RSS feeds
Featured viewer
How-to topics
Calendar of events
Loyalty programs
You should also make sure the design of your content is visually appealing. People will notice the design of your digital signs before they ever read your content, so if you want viewers to actually take in your message, you need to make sure your sign's design is good enough to keep them interested.
You don't need to be a graphic design expert to design appealing signage—you just need to follow a few simple tricks.
Use motion in your graphics and change up your design often. Motion grabs viewers' attention, and changing up your design every now and then will keep things fresh and give viewers a reason to check back with your signs.
Avoid cramming too many thoughts onto the screen or overloading the screen with text—viewers won't be interested (or have the time) to read a giant paragraph about your business.
Avoid using colors that clash or make your content hard to read.
Make The Most Of It
If you're going to invest in digital signage, make sure it will be worth it. Carefully choose the right signage type, provider, location, and content, and align it all with your business' goals and budget to ensure you get a great return on your investment.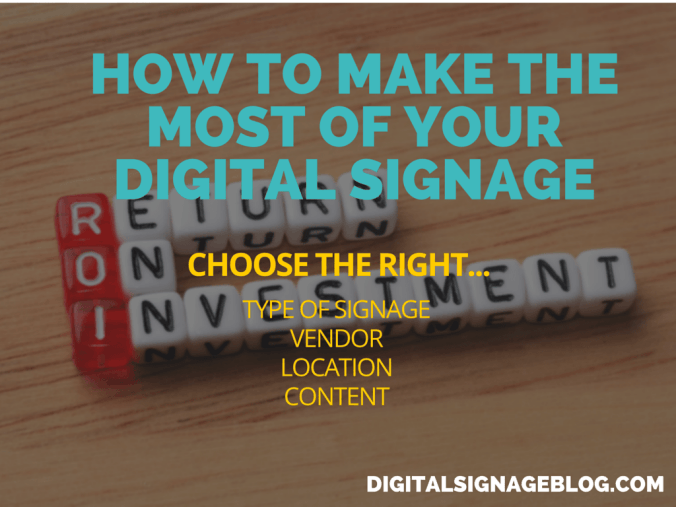 About the author:
mediaPanel is a digital signage company that offers simple, affordable, cloud-based signage solutions for businesses in all industries. Their goal is to help companies and organizations attract customers, promote their brand, increase sales, and improve their business with easy-to-use digital signage.
LIKE WHAT YOU'VE READ?
When you subscribe you will also join other Digital Signage readers who receive our content right in their mailbox. Good luck!