Digital Signage Market Worth $23.76 billion by 2020 at Compound Annual Growth Rate of 8.18%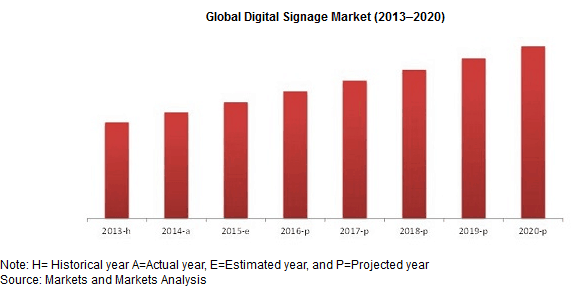 The digital signage market has gained momentum in the recent past due to the increasing innovation in display technologies. This is mainly attributed to the increasing demand for commercial displays and increased investment by companies for the development of digital signage in various applications such as education and government . Digital signage is installed for several purposes such as to increase the rate of impulse buying, create brand awareness, gain customer attention, generate higher revenue, and so on. Moreover, it gives the advantage of energy conservation, fulfills customers' need for information and details , low cost, easy-to-update feature with the help of web connectivity and cloud-sourced content, and monitors the retailers' approach to customers.
The global digital signage market is projected to reach $23.76 billion by 2020, growing at a CAGR of 8.18% between 2015 and 2020. The retail and hospitality sectors are expected to be the major applications contributing to the growth of this market. In the digital signage market segmented by type of software; distribution and scheduling software and content management systems are expected to contribute highly to the digital signage market.
The demand for distribution and scheduling software has increased considerably over the past few years, mainly due to its ability to support activities such as creation, distribution, and scheduling, and displaying content for the LCD, LED, and OLED displays  installed across the commercial, infrastructure, institutional, and industrial applications. It allows the users access to distribute and schedule programs over a large network or on a USB flash drive, and to select the software version as per their requirement, business environment, and the existing systems.
Content management system is a major type of software in the digital signage market; it is expected to grow at a CAGR of 9.30% between 2015 and 2020. It facilitates the creation and management of the various types of information sent to digital signage displays. It is used for more sophisticated signage content and better ease of use. It also enables employees or students to  add content without gaining higher levels of administrative control over content. This system is used in all applications, as content is main aspect.
North America holds the major market share for digital signage market followed by Europe and APAC. APAC is expected to grow at the highest CAGR  of 9.34% between 2015 and 2020, and reach $6.91 billion by 2020. The major reason behind this projected growth is that major players are located in the region and there are growing concerns toward advertising media with respect to  the rising costs and efficiency.
The global digital signage market report along with its sub-segments such as market by type, application, and geography provides valuable insights about the market till 2020.
There are a number of players in the market who provide a wide variety of digital signage solutions and other allied solutions such as NEC Display Solutions (Japan), Samsung Electronics Co. Ltd. (South Korea), LG Display Co., Ltd (South Korea), Sharp Corporation (Japan), Sony Corporation (Japan), Panasonic Corporation (Japan), AU Optronics Corp. (Taiwan.), Planar Systems, Inc. (U.S.), Adflow Networks (Canada), and Omnivex Corporation (Canada).
About MarketsandMarkets
MarketsandMarkets is a global market research and consulting company based in the U.S. We publish strategically analyzed market research reports and serve as a business intelligence partner to Fortune 500 companies across the world.
MarketsandMarkets also provides multi-client reports, company profiles, databases, and custom research services. MarketsandMarkets covers thirteen industry verticals, including advanced materials, automotive and transportation, banking and financial services, biotechnology, chemicals, consumer goods, energy and power, food and beverages, industrial automation, medical devices, pharmaceuticals, semiconductor and electronics, and telecommunications and IT.
We at MarketsandMarkets are inspired to help our clients grow by providing apt business insight with our huge market intelligence repository. To know more about us and our reports, please visit our website www.marketsandmarkets.com
LIKE WHAT YOU'VE READ?
When you subscribe you will also join other Digital Signage readers who receive our content right in their mailbox. Good luck!