Case Study: Improving guest experience with Smart Digital Signage and Way-finding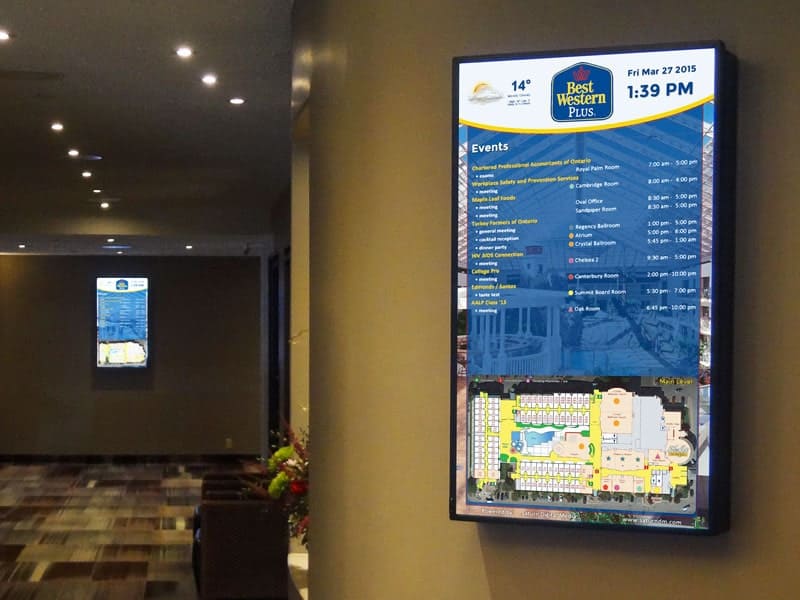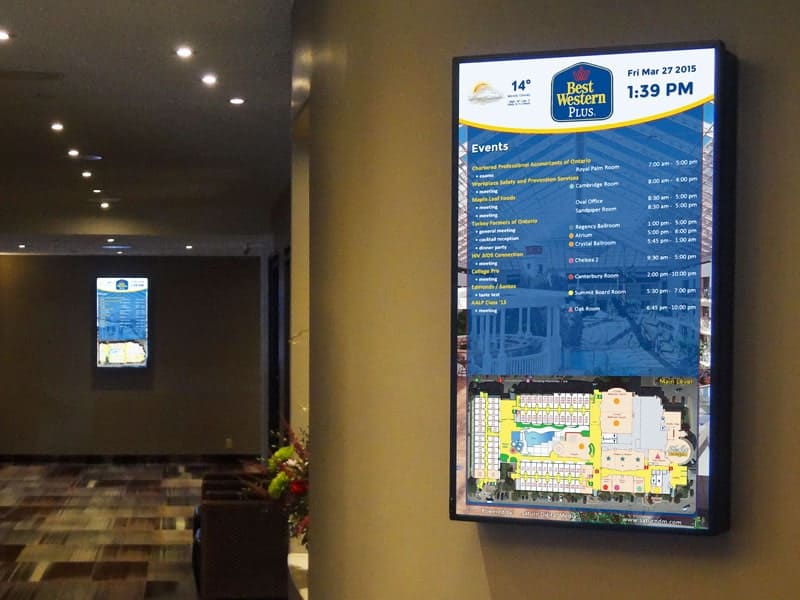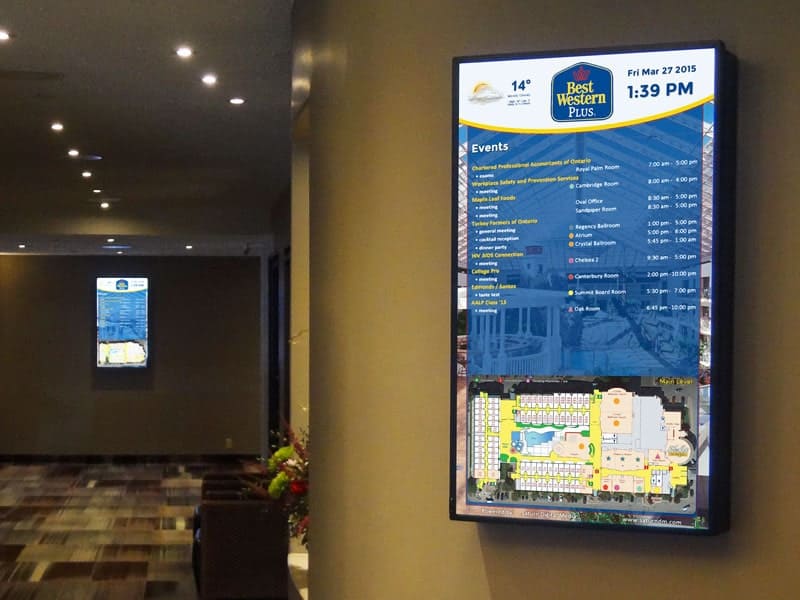 "It's the most flexible and easy to use product. The project looks better than I imagined and provides our guests with a unique and informative experience."
– Tony Czyzewski (Operations Manager – Best Western Lamplighter Inn & Conference Centre)
Client Profile:
Name: Best Western Lamplighter Inn & Conference Centre
Industry: Hospitality / Hotels
Head Office: London, Ontario, Canada
Operations: Canada
Solution: Digital Event Boards with Way-finding
Best Western International Inc. has more than 4,000 hotels in over 100 countries and territories worldwide. Each of the hotels is independently owned which means that there is always someone there who cares and rewards you for your loyalty.
Best Western Lamplighter Inn & Conference Centre is the recipient of the 2015 Travellers' Choice TripAdvisor Award for the very best of travel chosen by millions of travellers. The hotel is located in the heart of London, Ontario, Canada and is thoughtfully designed to suit the needs of any business or leisure traveller. Its unique Atrium Oasis features live palm trees and lush gardens while gentle streams lead to tranquil Koi fish ponds and waterfalls throughout. This paradise also houses a simulated rock mountain that has a 140′ water slide located within.
THE CHALLENGE
With over 20,000 square feet of technologically advanced meeting space and 15 unique rooms styles capable of accommodating groups from 8 up to 800, a digital signage system was required that would provide guests with quick event information and way-finding to the meeting rooms from the hotel's 3 main entrances.
The digital signage system needed to be welcoming and capable of instantly communicating special hotel announcements as well as any additional information from the event hosts.
The digital signage system also had to be super easy to use for the staff and  expandable in the future.
After a pitch to Lamplighter, the management awarded the project to Saturn Digital Media for presenting a unique solution that was most flexible and best suited for their needs.
THE SOLUTION
Saturn Digital Media has provided a custom built event display solution that feeds from a single high performance media player 3 46" screens installed at key hotel entrances. After initial consultation, Saturn Digital Media managed the project and implemented a custom layout design based on specifications provided by the management. Other services include software upgrades, smart way-finding system and 24/7 monitoring to ensure there is never any downtime.
Given how the staff was already very familiar with it, to make it easier a software interface was created to enable staff to manage the digital signage system via the secure Google calendar. In addition to managing the events with breakout sessions in advance, the staff can also use it to post hotel announcements or those shared by the companies hosting the events. The events and any old announcements that have expired are automatically deleted  from the screens. Furthermore, when no events the screens are utilized to display additional hotel information such as a information slide show about the meeting rooms and how to book them.
For way-finding every booked event is automatically assigned an unique marker pair which staff can replace with logo of the company hosting the event if requested. One marker is displayed next to the event name while its counterpart marks the meeting room location on an easy to follow map of the property. To help guests with orientation the screen locations are also marked. Finally, when concluded events are automatically deleted from the screens their markers also deleted so there is no confusion.
THE SUCCESS
Guests instantly see what events with breakout sessions are taking place at the hotel and where they need to go thanks to dynamic way-finding system marking the location of meeting rooms on an easy to follow map
The hotel is more environmentally friendly and money is saved due to reduced printed materials that included daily event schedules and hotel announcements
Staff productivity is increased as they can now focus their energy on other tasks instead of printing and posting daily event schedules for guests, announcements or answering guest questions about meeting room locations
Since the system is managed via Google calendar, the staff doesn't have to be tied to a single machine but instant updates from anywhere there is Internet.
"It's the most flexible and easy to use product. The project looks better than I imagined and provides our guests with a unique and informative experience." says Tony Czyzewski the Operations Manager at the Lamplighter Inn
THE FUTURE

The system is attracting the attention of other hotels which allowed Saturn Digital Media to expand to other big franchises that include the Hilton and Holiday Inn Downtown Toronto Centre with the latter also incorporating flight information. As for the Lamplighter, there are plans to expand the system by installing screens for the meeting room doors. They will respectively display the current event name, a short agenda, the room's identifying marker or host company logo for better orientation and more.
About Saturn Digital Media
Saturn Digital Media is a creator of smart digital signage solutions that make an impact. Its team of experts closely collaborate with clients to deliver custom solutions that suit their needs and increase productivity in their fast paced working environment. The company's line of solutions include: digital reader boards as well as bulletin boards, interactive kiosks, restaurant menus and way-finding. They provide solutions including but not limited to hotels and resorts, conference centres, restaurants, banks, car dealerships, schools, hospitals and government buildings.
Finally, Saturn Digital Media is a one stop shop for those looking for services such as graphic design, web development and media production that includes: video, motion graphics, sound design and music creation. For more information visit the company's official website at: www.saturndm.com
LIKE WHAT YOU'VE READ?
When you subscribe you will also join other Digital Signage readers who receive our content right in their mailbox. Good luck!