Digital signage FAIL: Blue Screen of Death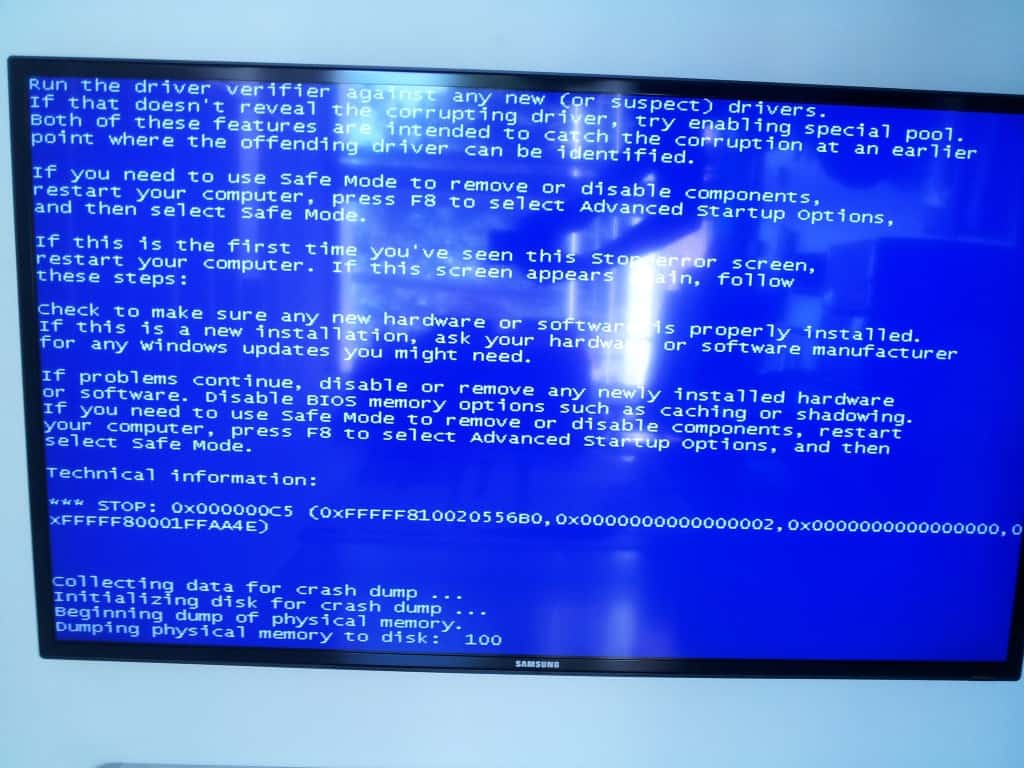 Yes, it has happened to us and we're not afraid to admit it – (I'm sure it has happened to many of us). The below photo is an example of the Blue Screen of Death. The blue screen of death is a stop error that indicates the operating system (Windows 7 in this case) has crashed.
FAIL FEATURES
Windows (yes it only happens with Windows) Blue Screen of Death – Not the prettiest blue screen
System didn't restart and was left like this
SUGGESTIONS/RECOMMENDATIONS
Sometimes in this situation there's not much you can do except to power the system down and start it up again.
There are now technologies that allow you to remotely power off a device via the network
There are tools that will allow you to analyse the crash dump and determine what could have caused the problem. If you are interested on how to analyise the crash dump then have a read of this Microsoft Page: How to read the small memory dump file that is created by Windows if a crash occurs
Check to make sure Automatically Restart after System failure is selected in the Windows Advanced Startup and Recovery
Click on Start, Right click Computer and then click properties
Select Advanced System Settings
Click on the Advanced Tab and click settings in Startup and recovery
Make sure Automatically restart is selected in System failure
If you have seen or would like to share a FAIL photo with the rest of the digital signage community please send it to info @ digitalsignageblog.com
Please also include the FAIL FEATURES and SUGGESTIONS/RECOMMENDATIONS
NOTE: We will not be naming any companies/businesses or the location of where the photo's were taken but we just want to highlight what went wrong, possible ways to remedy the problem and how to possibly avoid the same issue.
LIKE WHAT YOU'VE READ?
When you subscribe you will also join other Digital Signage readers who receive our content right in their mailbox. Good luck!

Our Sponsors
Advertise Me

We provide custom digital advertising solutions. We supply display screens, Video Walls, Touchscreens, Wayfinding, WordPress Plugins, create custom applications and basically implement any technology that is innovative.

Social Wall

Social Wall is a simple and easy to use tool to aggregate and display social media posts on any digital medium