Guest Post: The Sign Of The Times – Top Four Ways To Use Retail Digital Signage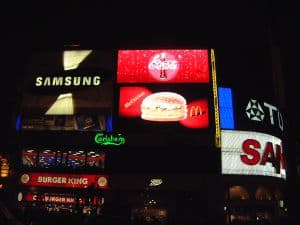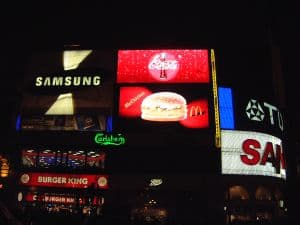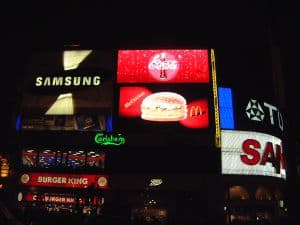 While social media has risen in popularity among businesses in the last few years, the power of moving images to inform, entertain and compel audiences remains at the core of a good advertising campaign. This is where retail digital signage becomes a cost-effective tool for businesses.
Digital signage can easily attract your target audience. But apart from that, digital signage has the ability to present various marketing messages, unlike outdoor billboards or print advertisements. With a digital signage, you can choose which content to highlight, be it a series of images, an HD video or even Internet feeds.
Not sure how digital signage can fit into your overall marketing and advertising scheme? Here are four ways you can use digital signage:
Retailers can use digital signage to promote products. It could be a new product that you want to highlight or you may want to push the sales of a slow-moving product. Got a sale coming up? Digital signage can effectively be used both for promotions and product updates.
Looking to upgrade the look of your store? Renovations are costly and they entail a long downtime for your business. Digital signage offers a quick and less costly approach to revamping the look of your store. The signage can make an instant visual impact on your customers while enhancing your store's ambience. They can also be used to entertain your audience while they are waiting to get served during peak hours or when they are shopping around your store.
While digital signage can be used for product information, they too can be used and tied to your other digital promotion efforts, like your own website and your social media pages. As you regularly update the content of your digital signage, you can customise and configure the content to match those with the content of your online assets. It is also a good way to drive traffic to your own website after customers leave your store.
Finally, digital signage is not just for promotion. You can use them to tell your brand's story in an eye-catching and compelling manner. Tell your customers about your business's history, the evolution of your product line up, or who your clients are.
Digital signage is a versatile medium that can be easily customised to suit the varied needs of a business, regardless of whether it is simply to inform, reinforce brand perception, or cultivate customer loyalty. Take advantage of this technology and reap the multiple benefits it offers for businesses.
About the Author
Bob Josward is an IT specialist by profession and a content creator by passion. He is much drawn to technology and is a tech savvy and usually visits http://www.crystalclear.net.au for updates about digital signage. With his interest on the effects of technology in the business industry, he often spends time reading and researching about gadgets, its advantages and disadvantages, for different kinds of businesses. He uses his love and passion for writing as a medium in effectively delivering his message for other readers and bloggers out there who share the same interest as his.
LIKE WHAT YOU'VE READ?
When you subscribe you will also join other Digital Signage readers who receive our content right in their mailbox. Good luck!