Digital Signage and Glass – the future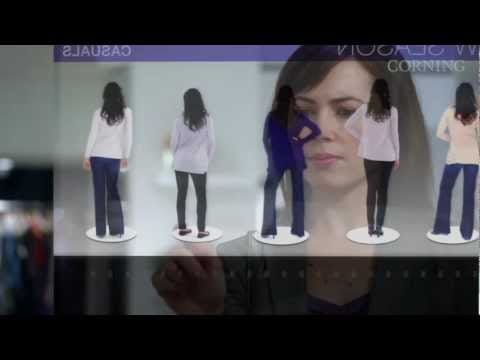 This is an old video that was posted in 2011 and another in 2012 but this was the first time I saw it and was amazed! Yes, the innovative ideas for the future of digital interactivity on glass was just amazing. The video showcases the photovoltaic glass (high efficiency, optically versatile and durable) – you don't need blinds. The LCD Television Glass – a large format, ultra thin and frameless design. It looks awesome! The Architectural display glass (Pristine Surface, Electronics enabling, touch sensitive) which I have been told has already been installed in hotels in Dubai is mind blowing. Imagine the possibilities of entertaining and educating your kids whilst they brush their teeth. The Architectural surface glass (tough, thermally durable, display enabling) is what every kitchen needs. The Appliance Veneer Glass (Seamless design, electronics enabling, scratch & Smudge resistant) used on fridges or pretty much any appliance is great for leaving short notes or for a photo pinboard. Then there's the Handheld display glass (Thin & Lightweight, Damage Resistant, Touch Sensitive) is what every iPhone and Samsung Galaxy will end up using. The Automotive Display Glass (Streamlined Design, Advanced Functionality) will probably be in all the cars in the near future. The Large-format display glass (weather resistant, electro-optics enabling, optically adaptable) will be used for large billboards.The all-weather surface glass (damage resistant, display enabling, touch sensitive) will be used at bus stands. Then if you need a video wall, why not use a wall-format display glass (large scale, seamless design, touch sensitive) that can be used for any time of business requirement. The Work Surface Display Glass and the flexible display glass are pretty much available now. Nothing new but the idea of what it can be used for seem to just be amazing. I'm sorry if I've used that word too many times.
Then there's the All-Weather Surface glass (Display enabling, damage resistant, touch sensitive) that just makes my jaw drop.
When I watched the second video, I felt like going back to school because it seems so fun!!!
Touchscreen glass is an exciting area and I hope we can see digital signage implementations in the near future.
LIKE WHAT YOU'VE READ?
When you subscribe you will also join other Digital Signage readers who receive our content right in their mailbox. Good luck!