Using Microsoft Kinect and Digital Signage Examples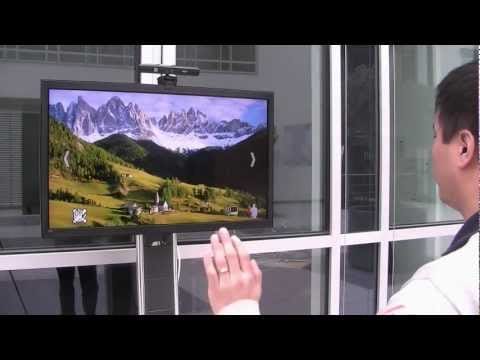 Here's a few examples of how the Microsoft Kinect system can be used with digital signage. Some are just prototypes but it's the innovative possibilities that makes the technology so powerful.
The SementicMap – Microsoft Research
Basically the SemanticMap, The Next Step In Public Information and Navigation On The Go is a Digital signage prototype featuring proximity detection, face recognition and gesture interaction technologies developed in Microsoft Research Asia. The system provides the right amount and detail of map-related information according to the user's distance from the display. It's a bit had to understand watching the video.
SemanticMap – Vision from Design @ Microsoft Research on Vimeo.
Prototype Microsoft Kinect in Digital Signage
This looks like it's a home made video. When you watch the video, just keep in mind never to put a screen on the side like that!
Prototype Microsoft Kinect in Digital Signage from Slightly Overdone on Vimeo.
X20 – KINECT TWITTER CUBE
The video was a bit hard to follow due to all the shaking but you'll get the idea. Below is the X2O implementation with KINECT camera and TWITTER integration in a Digital Signage solution.
X20 – KINECT TWITTER CUBE from Kolo on Vimeo.
Media Viewer Software for Kinect for Windows
Control your pictures, videos, PowerPoint Slides and PDF´s with Kinect for Windows.
WIN&I software by Evoluce uses the power of Kinect for Windows. You can browse through image and video galleries by a simple wave of your hand. WIN&I Media Viewer for Kinect for Windows tracks gestures from several users up to four meters from the screen.
Take a look at pictures of your latest holidays or present videos at the office. Experience a new way to interact with your PC and control your PowerPoint Slides and PDF pages on any large format display with Kinect for Windows.
LIKE WHAT YOU'VE READ?
When you subscribe you will also join other Digital Signage readers who receive our content right in their mailbox. Good luck!