Cool Video showcasing the Magic Finger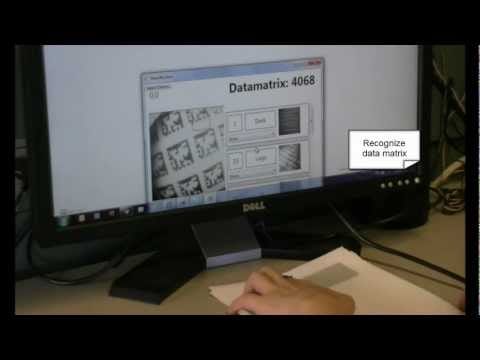 I came across this video about the Magic Finger and I could see potential uses of this technology with Digital Signage. What is the Magic Finger? (no!! It's not the middle finger!)
Magic Finger is a research project from Autodesk Research, in collaboration with the University of Toronto. Magic Finger is a small device worn on the fingertip, which supports always-available input. Magic Finger inverts the typical relationship between the finger and an interactive surface: with Magic Finger, we instrument the user's finger itself, rather than the surface it is touching. Magic Finger senses touch through an optical mouse sensor, enabling any surface to act as a touch screen. Magic Finger also senses texture through a micro RGB camera, allowing contextual actions to be carried out based on the particular surface being touched. A technical evaluation shows that Magic Finger can accurately sense 22 textures with an accuracy of 98.9%. We explore the interaction design space enabled by Magic Finger, and implement a number of novel interaction techniques that leverage its unique capabilities.
Here's the video – the acting is quite funny too.
Can you image how people will be able to interact with Digital Screens?
For more information about this research project click here http://www.autodeskresearch.com/publications/magicfinger
LIKE WHAT YOU'VE READ?
When you subscribe you will also join other Digital Signage readers who receive our content right in their mailbox. Good luck!