PADS4 release 1 – signage software suite provides powerful monitoring and system control



Net Display Systems (NDS), a leading developer of digital signage software, is proud to announce PADS4 release 1. With this new release, PADS4 includes the much anticipated PADS4 Agent, an extremely powerful tool to remotely monitor and manage your PADS4 eco-system.
The PADS4 Agent has many built-in features for real-time performance and system control. You can check the status of viewer connections, retrieve screenshots of individual viewers and have a live status overview of your PADS system. The PADS4 Agent offers fully automated software version control, ensuring you always run the latest software while significantly reducing your total cost of ownership.
With the addition of the PADS4 Agent, NDS now offers a feature-rich digital signage solution that enables you to inform, entertain and entice your audience anytime, anyplace with any type of content. PADS4 includes an intuitive Designer to create appealing presentations in no time, a user-friendly Scheduler, a variety of Viewers that are tailored to your requirements, and a solid Server application to manage your signage environment.
"We are very thrilled about our latest PADS4 release", says Willie-Jan Bons, CTO of NDS. "This is a result of our continuous efforts to improve and enhance our software and we are grateful to our customers and partners for their feedback. We have embedded a unique black box feature in PADS4 Agent.", he continues. "By logging configuration and performance details, we have maximum traceability for auditing purposes and technical support, similar to black boxes in the aviation industry."
PADS4 is highly valued by our customers for its Microsoft® Office look-and-feel user interface, which significantly reduces the learning curve and increases the productivity of its users. A stand-out feature of PADS4 is the seamless integration with any type of database, resulting in an easy integration into existing workflow.
Here's a screenshot of the PADS4 Agent: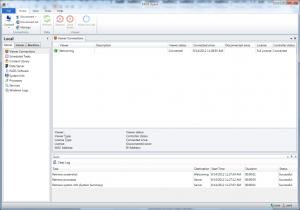 LIKE WHAT YOU'VE READ?
When you subscribe you will also join other Digital Signage readers who receive our content right in their mailbox. Good luck!