No Signal means No Good
H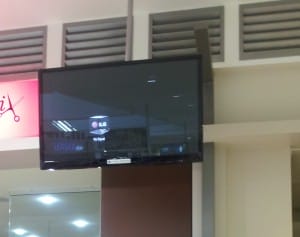 ow many times have you seen a "No Signal" message on a digital signage screen that is in a public area? I've seen this too often and it's most likely due to the media player not being switched on or because it's basically "dead"… as in faulty.
I saw this on a screen in a shopping centre and wondered what strategies or technologies are out there to ensure that at least there is content displaying on the screen. I came up with a few ideas… it's a very EZY idea:
Use a commercial grade screen that is able to detect whether there is any signal in the input. If there is no signal then display a default customised logo or switch to another input that has a signal
Use a commercial grade screen with a simple built in player. Use an external player as the primary input source and then setup the screen to use the built in media player if there is no signal on the primary input
Design a transparent screen that uses a static back lit image so that in the event the screen or media player goes down, then viewers will be able to see the static image in the background
Now, you're also thinking that if your media player is switched off, how can you remotely change the input source? There are some commercial screens that have a network interface card that allows you to remotely manage the screen, so as long as you have this connected to the network, you will be able to easily change the setting on the screen and there are also other screens that have the input sensing already built in.
I guess in this type of situation, your Digital Signage system needs to be able to monitor the status of the screens and players. This can be achieved by having the Content Management Server poll for the status of the players/screens and if there's not response within x amount of retries, then send out an alert to the administrator or operator. They can then dispatch a technician to go on site to resolve the issue.
Maybe I'll got back there in a few days time to see if the issue has been resolved.
LIKE WHAT YOU'VE READ?
When you subscribe you will also join other Digital Signage readers who receive our content right in their mailbox. Good luck!