McCarran International Airport in Las Vegas goes digital with NEC and Four Winds Interactive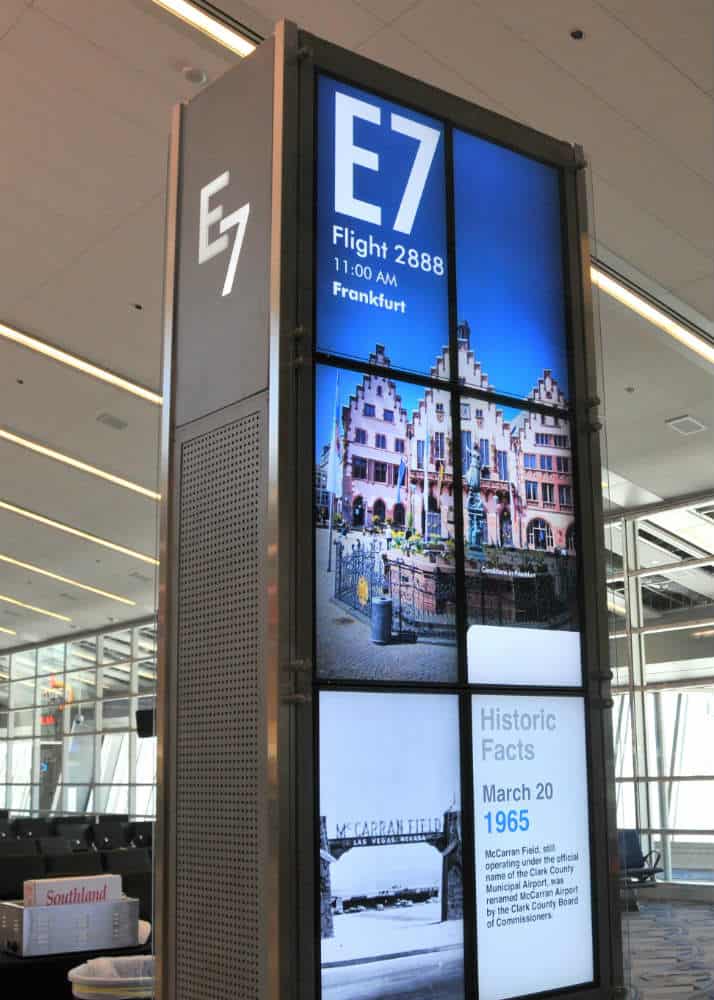 McCarran International Airport in Las Vegas has partnered with NEC and Four Winds Interactive for their digital signage solution. The solution included 900 NEC large-screen displays and 800 single-board computers, a double sided video wall (6 portrait screens per side) that served as a Gate Information Display. This was located outside each of the arrival and departure gate in the new Terminal 3. As part of the solution, hundreds of digital signs was installed to help passengers better manage their travel-related activities.
The content on the gate signage includes real-time flight information, destination specific content such as weather, photo backgrounds of travel destinations. Digital wayfinding was also included as part of the solution and emphasis was placed on the use of 3D custom floor maps. What's clever about this solution is that the "map it" feature enables travellers to see an animated visual route from their current location to their destination and this information can be sent to their smartphone by using a QR code.
According to the NEC website:
NEC's innovative technology, comprised of 182 46-inch P461s and 723 40-inch P401s, will be used for flight, baggage and gate information, security checkpoints, gate-holding areas and check-in counters. Selected for their quality and reliability, these NEC models are designed to operate 24/7 in the most demanding environments.  NEC's SBCs also will be deployed with the digital screens and reside in the slot options of the P Series displays.  Having the computers residing in the monitors addresses the challenge of where to house the source computers for flight information displays mounted high on walls or in the air on pedestals.
LIKE WHAT YOU'VE READ?
When you subscribe you will also join other Digital Signage readers who receive our content right in their mailbox. Good luck!