What is Super Hi-Vision?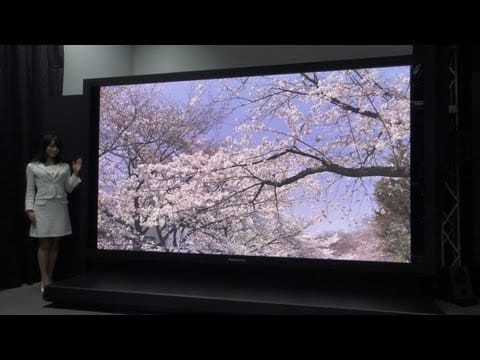 I just came across an article that talks about Super Hi-Vision video formats. This is basically a new television technology which is 16 times (yes you've read it correctly… 16 times) the resolution currently available on HDTVs. If you do the maths the resolution is 7680 × 4320 which I'm assuming will be called 4320p?
Ultra High Definition Television are screens that support this format and an example of this would be the Panasonic 145-inch screen:
In the video, the CTO Managing Director Hideo Toyoda mentioned the following:
Even when viewed from 1.6m away, this Ultra High Definition display makes you feel as if you're looking at a real scene. It doesn't use 3D technology, but the picture is so realistic, you feel truly immersed in the scene.

One major feature of this 145-inch Ultra High Definition display is that it shows a very uniform image at such a high resolution. Another big feature is, because it's Ultra High Definition, if efficiently shows 8K x4K pictures, which have a huge pixel count. At present, we think this system will be used in commercial settings first, such as theatres, rather than in the home.
Loading ...
For more information about the Super Hi-Vision screens have a read of this wiki article: http://en.wikipedia.org/wiki/Ultra_High_Definition_Television
LIKE WHAT YOU'VE READ?
When you subscribe you will also join other Digital Signage readers who receive our content right in their mailbox. Good luck!