Product Review: Shuttle XH61 for digital signage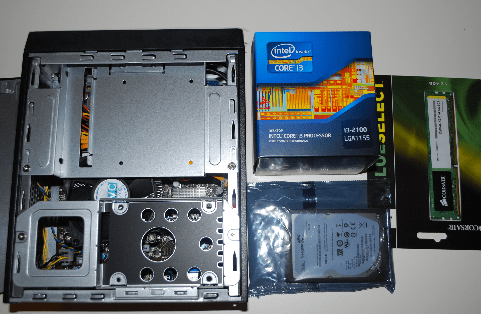 Shuttle recently launched the XH61 slim factor PC which is great as a digital signage player. For those who are Shuttle fans, from a distance and looking at it straight from the front, you'll notice that the XH61 looks identical to the XG41. Yes you're right, from the front it's pretty much the same but when you look at the back you'll notice a few differences. The XH61 has a VGA output instead of the DVI and also it no longer has a second NIC. It was quite useful for us to have a second NIC, which was purely used for the direct  network management of the screens.
Now forget about the outside, let's focus on the inside. The XH61 supports i3,i5,i7 processors …. more grunt for your digital signage system. In addition it also supports DDR3 1333 MHz DIMM with maximum capacity up to 16GB. Let me repeat that – maximum capacity up to 16GB. In summary here are the main difference between the XH61 and XG41:
| | | | | |
| --- | --- | --- | --- | --- |
| Barebone | CPU | Ethernet | DRAM speed | DRAM Max size |
| XG41 | Intel 65W LGA 775 CPU | Realtek RTL 8111E x 2 | 800/1066 | 8GB |
| XH61 | Intel 65W LGA 1155 CPU | Realtek RTL 8111E | 1066/1333 | 16GB |
| | | | | |
| Barebone | I/O | PS2  Interface | Display Interface | VGA |
| XG41 | Comport*2 | N/A | HDMI + DVI-I | Intel X4500 |
| XH61 | N/A | KB*1 Mouse*1 | D-SUB + HDMI | Intel HD |
This unit is perfect for digital signage especially if you need it to be left on 24/7 and don't want to kill the environment. The unit uses 90W of power.
Like the previous model, the XH61 has the VESA mount that can be purchased separately and also has the power management features (wake on LAN).
The best thing about this Shuttle, or any other shuttle is that is took me less than 5 minutes to build the unit. This included inserting the CPU, Memory and HHD. Here's some pictures of me assembling the unit:
Here's the product info from the Shuttle website:
Intel® H61 Express Chipset

The Intel® H61 Express Chipset and 2nd generation Intel® Core™ processor family deliver the new technologies and innovating capabilities. The Intel H61 Express Chipset enables total 2 DIMM slots and installs DDR3 1333 MHz DIMM with maximum capacity up to 16GB. The 2nd generation Intel Core processor also includes built-in visuals for a stunning and seamless visual PC experience.

Mini-ITX Mainboard Support

Shuttle expands the capabilities of its chassis, adding support for Mini-ITX mainboards (17×17 cm or 6.7×6.7 inches). Shuttle chassis go beyond the Shuttle mainboard, so you can easily upgrade the mainboard to your desire without any modifications to the chassis.

VESA Mount Capability

Designed to fit seamlessly into your lifestyle, XH61 is capable of mounting to the rear of a LCD monitor or a TV. This space saving capability makes it easy to blend into any environment.

Support for 2nd Generation Intel Core 65W Processor Family

The 2nd generation Intel Core processor includes built-in visuals, a rich set of new features for a stunning and seamless visual PC experience with no additional hardware required in the PC. If you are looking for a space-saving and performance-optimized PC to meet all kinds of daily computing needs, XH61 is your ideal solution.

Dual display solution

Thanks to HDMI and D-sub outputs two monitors can be run at the same time using these connectors. It provides HDMI with full 1080p support to deliver the stunning full HD and graphics for high-end users.

Low Power Consumption

The XH61 system consumes less than 90W of power in full us
LIKE WHAT YOU'VE READ?
When you subscribe you will also join other Digital Signage readers who receive our content right in their mailbox. Good luck!