Clever Concept Vending Machine with See-Through Display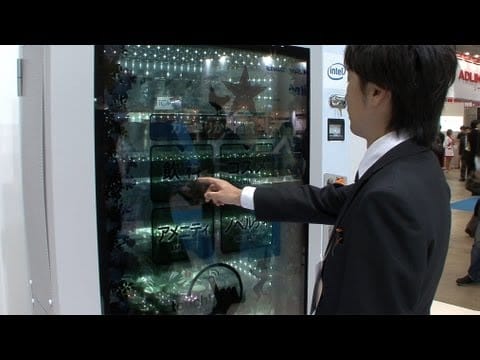 Here's an interesting and clever concept vending machine with a see through display that is being developed by a Japanese company. But firstly, he's a few points from the video:
They use a Vertical Full HD 65″ Transparent display. We don't know the brand of the display. Does anyone know?
The products behind the display can be seen through the glass. It would be cool if the screen will display information or content relating to the product that was purchased i.e Did you know…
When the system is not being used it will display a large digital clock with animations to attract the attention of people passing by. If the animations are cool and has some humour I think it will definitely attract attention.
You can also simultaneously see high definition text pictures and animation. It appears that the screen images/text are just in black.
The system is driven by Intel Sandy bridge core. For more information about this processor see this link: http://software.intel.com/en-us/articles/sandy-bridge/
It also uses the Intel (they purchased the company Cognovision) Audience Impression Metric or otherwise known as AIM which is used to determine Anonymous facial recognition. The system will be able to determine the person's gender (male or female), age and then display ads that is relevant to that person by using a camera attached at the top of the vending machine. I think it would have made more sense enclosing the camera as part of the vending machine rather than just having a webcam stuck at the top.
In the demo, the company is suggesting that the vending machines can be used to purchase luxury items such as cosmetics and wine. I can just see the high insurance bill for this.
The machine also has a public safety mode which can be used in times of emergency, which will show information such as the emergency routes. What would be cool and exciting to see is if the vending machine turn into a robot and usher you to a safe spot.
There are many possibilities and opportunities with this solution. It's all up to our imagination.
Now here's the video:
LIKE WHAT YOU'VE READ?
When you subscribe you will also join other Digital Signage readers who receive our content right in their mailbox. Good luck!