Pulling apart a digital signage player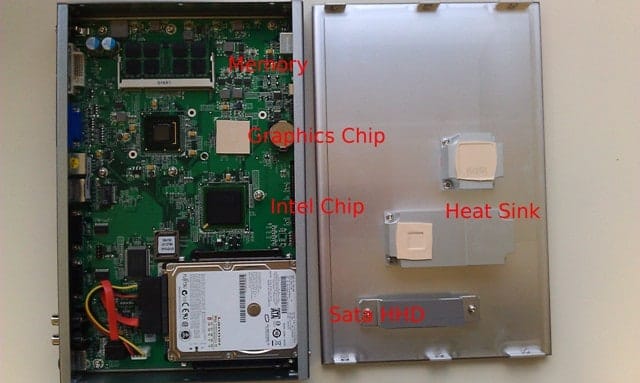 This week we were up to no good and opened up two digital signage players to have a look to see what is inside the unit. Here's some pictures of what we discovered:
| | |
| --- | --- |
| | |
| Digital Signage Player 1 | Digital Signage Player 2 |
As you can see from the picture, these players have the same components as a computer – basically it is a computer. It has a CPU, Motherboard, PSU (Power Supply Unit), Graphics chip, HHD, Memory, Storage Drive and heat sinks/FANs.
Most of the digital signage players that we have seen have an Intel Central Processor Unit chip. The CPU requirements will depend on type of content and software you intent to use the player for. For example, if you just intent to display images and text an Intel ATOM CPU will suffice but if you need to display High Definition Videos with flash and images, then a Dual Core CPU will be required.
In addition, the Graphics chip is also a crucial component when determining what digital signage player is required. In particular, there are different types of Graphics chips and cards that has many useful features e.g multiple video outputs (HDMI, VGA, DVI), extended or clone video (the ability to duplicate or extend the content to multiple screens)
If you intent to display lots of Videos as content, then the bigger the HHD the better. SATA is generally faster than IDE. These days, HD Videos can take up as much as Gigabytes of storage, and given that storage is quite affordable then why not have the large storage space.
RAM (Random Access Memory) is temporary storage that loads much faster than a HHD. Memory is also cheap, so the bigger the memory the better. Obviously, costs is always a deciding factor when purchasing any type of product but before you do decide to make that final purchasing decision, make sure you thoroughly review and test the unit.
LIKE WHAT YOU'VE READ?
When you subscribe you will also join other Digital Signage readers who receive our content right in their mailbox. Good luck!