Digital Signage Klips:The importance of a good screen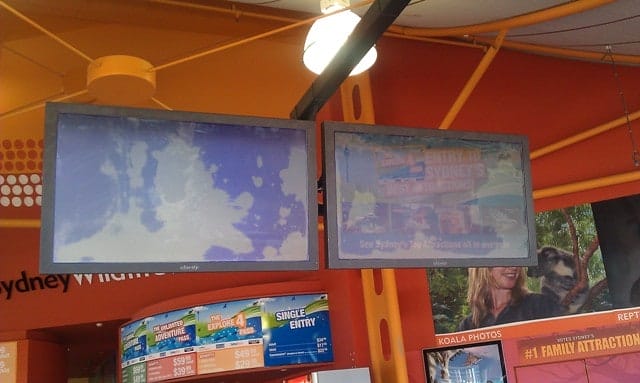 Here's an example of why it is important to invest in a good screen and I'll give two examples I saw at Darling Harbour in Sydney Australia. The first example is an LCD screen in Sydney Wildlife World that was relocated from the inside of the reception area to the front. I think the company realised that the location of the screen is important and that visitors walking past did not notice the screens when it was located at the back of the reception area. It is now located at the front closer to were most of the traffic is. Besides one set of the screens being too low (I think this is an OH&S issue – I could almost touch the bottom of the screen with my head) the quality of the screen was pretty bad – have a look at the below picture. I could hardly see the content on the screen even when standing right in front of the screen. I think it's time for a replacement – please call us if you're reading this and want it replaced.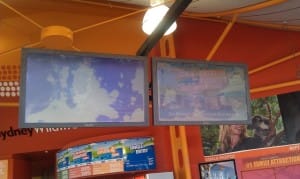 The second example is from Sydney Aquarium, which is just around the corner from the Sydney Wildlife. They recently installed multiple digital signage screens at the front of their reception area. From far away, you can clearly see the content of the screen. The colours on the screen is bright compared to the previous example. It's eye catching and that's what most digital signage installers need to think about i.e how can I make my screens get noticed. In total they had 5 screens, 4 in landscape and 1 in portrait. My suggestion would be to use a digital menu board at their food counter.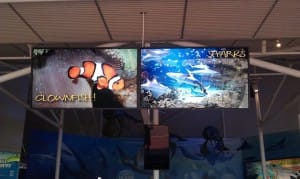 LIKE WHAT YOU'VE READ?
When you subscribe you will also join other Digital Signage readers who receive our content right in their mailbox. Good luck!