Digital Menu Boards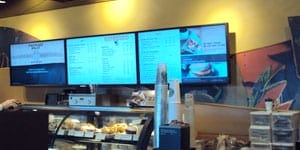 Digital menu boards are becoming the greatest marketing tool for Restaurants and food outlets. Why? Because food can be more engaging and enticing if there's motion and if information can be updated based on time schedules.
One of the main advantages of using digital signage is the fact that if you own multiple stores at different locations, you can centrally manage all of these from the head office.
Traditionally, one of the most time consuming component of a menu board is changing the prices and images of the food items. With a digital menu board this task has become so much easier. For some digital signage solutions, all you need to do is update the prices in an image editing tool or edit a text file.
For those of you who are interested in a digital menu board visit Advertise Me – they are offering a packaged digital menu board solution which includes the following (click here to view their offerings and pricing):
40″ Commercial Grade LCD FHD display screen
(Other screen sizes also available)
Built-in Digital Signage Player
Creation and design of your menu board (preview some of our designs)
1 Year Commercial Warranty
Operations/Training Manual
Installation Guide
Delivery
So take the step now and GO DIGITAL and contact Advertise Me to discuss your digital menu board solution.
LIKE WHAT YOU'VE READ?
When you subscribe you will also join other Digital Signage readers who receive our content right in their mailbox. Good luck!