Guest Post: Digital signage at Baseball stadiums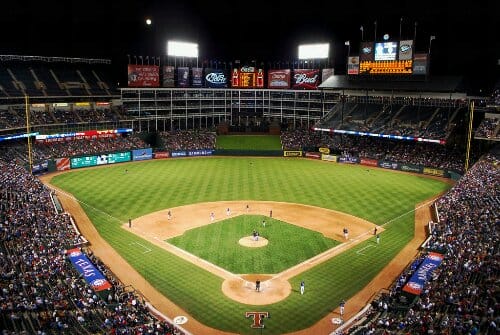 Written by Guest Blogger: Kyle Michael from SEOTA.
One of the most noticeable places you will find digital signage is in a baseball stadium. The stadiums of Major League Baseball teams feature some of the most creative uses of digital signage. From LED boards and ribbons to large, elaborate scoreboards, Major League ballparks are the ideal application for a digital sign. In ball parks all across the nation, digital signs cover the ballpark facades and even take over the scoreboard and outfield walls. The scoreboards of all Major League facilities and even some Minor League facilities have undergone upgrades to feature digital signs. Using the focal point of the stadium is one of the most effective ways for sponsorships to advertise. One of the most cutting edge ballparks is Rangers Ballpark in Arlington. One of the truly unique places to see Arlington signs is at the Ballpark.
For Opening Day 2011, the Rangers Ballpark will feature a full LED ribbon around the second deck to add to the already state of the art digital signage in the ballpark. In 2009, the manual scoreboard in left field was replaced with a magnificent LED scoreboard.
LIKE WHAT YOU'VE READ?
When you subscribe you will also join other Digital Signage readers who receive our content right in their mailbox. Good luck!