Announcement: Flypaper releases version 3.3 for digital signage including multi-touch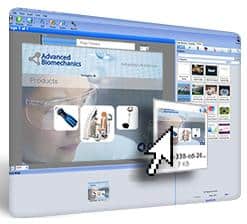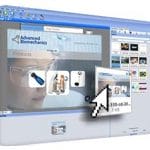 We just received  news that Flypaper Studio, Inc, has released version 3.3 of  the Flypaper digital signage software. According to Flypaper:
"The latest updates and new components included with this version support the growing demand in digital signage for faster, better quality content with a focus on touch-screen interactive experiences. The newest multi-touch features, including the ability to slide, swipe and flick at all components on a screen, allow companies to do cooler things with digital signage, and do them more affordably and in significantly less time."

"The demand for digital signage is growing so exponentially, that companies are struggling to keep up and continually improve on the content itself. Flypaper is working tirelessly to stay ahead of the curve and give digital signage network owners and operators more options for creating killer content," said Don Pierson, founder and president of Flypaper. "Multi-touch is the latest functionality that everyone is looking to incorporate, and this latest version of Flypaper helps showcase it beautifully."

Flypaper's Version 3.3 has several new features and updates aimed at making the customer experience with digital signage more interactive. New components that are especially powerful for kiosk displays include a virtual keyboard, a timer that kicks in during periods of inactivity, and a print button. Gesture support has been added to all components so users can slide, swipe and flick the display, making it a more engaging experience. Developers can also now add in Media RSS feeds and scrollers, run video within text, and input real-time weather data. In total, Flypaper added nearly 40 new features, updates and enhancements to version 3.3.

"Just when we think we've reached the limit for a touch screen display, Flypaper brings in new elements that raise the bar even higher," said Scott Mathews, CEO of MG Digital Media Network.

"They have done a great job of staying one step ahead of what the industry needs."

Flypaper is revolutionizing the digital signage world by enabling the development of high-quality, affordable Flash content that is very fast to create and easy to edit. The Flypaper Flash Content Creation Platform is a licensed environment where companies can create and share vast amounts of digital signage content and motion graphics. Users benefit from hundreds of already available templates and components, or can create their own quickly and easily, with no prior development experience.
We managed to get a comprehensive list of the new features and enhancements in v3.3 and these are:
New and Enhanced Features
1.    Components
a.    Multi-Touch
i.  The ability to Pan, Zoom and Rotate Components using a multi-touch enabled monitor has been added to all visible Components (requires Flash 10.1).
ii. In addition, the ability to Swipe has been added to the Cube Gallery, Image Scroller and Revolver Components (requires Flash 10.1).
b.    New
i.  Clock: Displays the time in an analog, digital or text format clock. Choose time zone and day light savings time.
ii. Close Presentation Button: Closes the running Flypaper presentation.
iii. MRSS Feed: Provides a list of MRSS messages and images associated with each message. You can choose a predefined MRSS feed, or define a custom one of your own. Messages are displayed in the RSS Viewer Component and images are displayed in the Image Viewer Component.
iv. MRSS Scroller: Displays the contents of an MRSS feed in a scrolling text box, including message and image. You can choose a predefined MRSS feed, or define a custom one of your own. Optionally, the MRSS image can be displayed in the Image Viewer Component.
v.  Print Button: Prints the visible contents of the screen (or just the visible Components you specify) at the time it is pressed.
vi. Video Feed: Streams video feeds from various news sources. In addition, you can specify your own FLV, MOV or MP4 feed.
vii. Video Text Mask: Displays the contents of a video file within the text characters of the Component.
viii. Virtual Keyboard: An on-screen keyboard which can be used to populate the contents of Components which accept key entry. The Virtual Keyboard can be accessed via touch, and can also be hidden when not in use.
c.     Updated
i.  CSV Component:
1. More Components can now display CSV data, including Big Text Mask, Zoom, Pan, and Pan & Zoom Components.
2. The Button Component can now select a specific row in the CSV Component's data file, displaying the contents in associated Components.
ii. RSS Feed and RSS Scroller Components: New data formats available, including international date options.
iii. Timer Component: New "Kiosk Mode" activates timer after period of mouse inactivity.
iv. Image Viewer, Audio and Flash Components:
1. Ability to define remote resources via a URL.
2. Remote resources can be cached or refreshed on each access.
v. Image Scatter Component: Display speeds increased.
vi. Weather Component:
1. Can now display weather information fed from the CSV Component.
2. Ability to add custom SWF icons.
2.    Editing
a. Page Time and Timeline Duration are now synchronized. In addition, the option to update the page time when adding media files such as videos or audio files.
b. Maximum Project size of 4080×4080 (requires Flash 10).
c. AVI Video output option.
d. International Arial Font option including Japanese, Simplified Chinese, Spanish, French, German, Italian and Portuguese.
General Improvements

1. Improved playback performance for Single SWF file output
2. File Recovery Improvements
3. Web Video Search enhancements
4. FlyPlayer performance upgrades
We are currently using an older version but we're keen to test 3.3.
LIKE WHAT YOU'VE READ?
When you subscribe you will also join other Digital Signage readers who receive our content right in their mailbox. Good luck!