Digital Signage that's Thai Riffic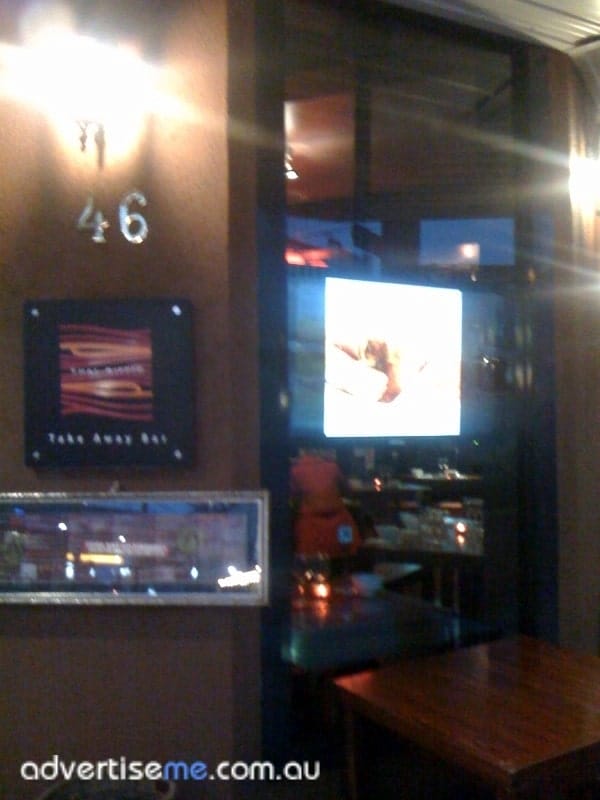 Digital signage is one of the most cost effective ways to market your restaurant or store. We were recently engaged to provide and install a cost effective solution for Thai Riffic (obviously a Thai restaurant) based in Randwick Australia.
Although the requirements were very simple (to display images with transition effects) we delivered a solution that was simple and easy to use but most importantly one that had value added benefits.
Uploading content to the player is easy. The store owner needs to open up a locked compartment on the side of the screen and plugs a USB dongle into the port. The player automatically synchronises the content from the USB port to a CF card. Once the synchronisation completes, the store owner just removes the USB dongle and closes the compartment. Yes it's that easy!!!
The unit was a 42″ LCD with an internal digital signage player that hangs outside the main restaurant window. It catches the attention of any person that walks by – obviously the main reason for installing digital signage. The system is controlled via a remote control – once again very simple to use. If you've used a DVD remote control before, then this one is just as easy.
Since the restaurant only opens for dinner, the screen looks amazing at night. The images of several mouth watering dishes are continuously displayed in a loop with random transition effects. Have a look at some of the photos we took:
Do you want to …
have your food speak for itself
increase the number of orders
provide more than just food with ease and convenience
enhance your customer's dining experience without the expensive price tag?
If the answer to any of these is YES then Advertise Me we can build you a digital signage solution that is superior to anything currently on the market.
Whether you are a take away store or a fine dining restaurant, we can build you a digital signage solution that is superior to anything currently on the market.
With Advertise Me you can:
present visual images of dishes of the day
replace or enhance menus such as the blackboard specials
provide subtle entertainment and information
help make events and functions more memorable with slideshows, music, music clips or showing video messages
LIKE WHAT YOU'VE READ?
When you subscribe you will also join other Digital Signage readers who receive our content right in their mailbox. Good luck!