The launch of ABC 24

The Australian Broadcasting Corporation launched the 24 hour news channel on the 22nd July 2010 at 7:30pm and I was there to witness the launch. It was a great event, the atmosphere was exciting.


The reason why I was there was because I worked on getting the backend IT infrastructure working for their studio automation system and various projects relating to ABC 24. I have worked on this project for over 7 months and it was a busy time but I'm so glad to see the results of this hard work. More importantly I was exposed to the "Broadcast World" and the Broadcast systems and have learnt how to integrate the IT world to the Broadcast world and vise versa.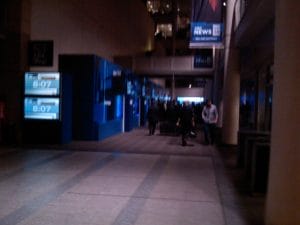 The Studio for the 24 hour news channel is viewable to the general – it's located on the ground floor of the Ultimo building in Sydney Australia. Like many other television stations, there is a glass window which allows the public to view the studio whilst it's live. In the studio there's your typical reporter desk, cameras (what's unique about these cameras is that it's all controlled via a computer system), lighting, LCD and plasma screens (there are two massive 103" plasma screens) behind the reporters desks. There is also a control room next to the studio and it's amazing – there's lots of screens, complex audio and video systems and this is the "brains" (where everything gets controlled) of the studio.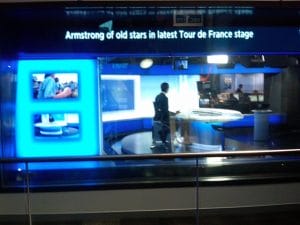 Just next to the studio, there is a kiosk area where the general public will be able to relax and browse the ABC website –  in particular the News section. I was involved with configuring and setting up these PC's and it looks pretty good. Here's a picture of the kiosks.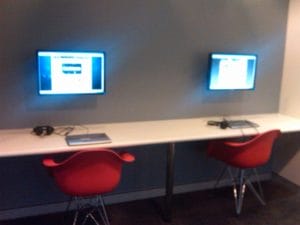 To add on top of all this work, I was involved with the setup of the web streaming service so that the general public can view the ABC 24 news channel online via their website, or Iview and also on the iPhone. What a great service!!!
As you can clearly see, the Australian Broadcasting Corporation is moving forward with technology and focused with ensuring the Australian public receives the best service by being able to update the public with the latest Australian and International news no matter when and where they are. Well done ABC!
LIKE WHAT YOU'VE READ?
When you subscribe you will also join other Digital Signage readers who receive our content right in their mailbox. Good luck!