Advertise Me Interviews Christie MicroTiles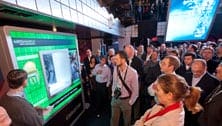 Interview with Richard Heslett, product manager, Christie® MicroTiles™, Christie Digital Systems USA, Inc. He is responsible for product lifecycle management: identifying and evaluating market opportunities, defining product requirements and developing sales and marketing strategies.
Advertise Me:
Hi Richard, thanks for joining us for this interview and welcome to the digital signage blog.
Christie:
Thanks. It's a pleasure to meet you and your readers!
Advertise Me:
For our own records, how did you first come across or hear about the digitalsignageblog.com?
Christie:
Your site targets many of the key industry players in digital signage who are interested in the latest developments, trends and products that can help them do their jobs better. We believe it is an excellent venue for connecting to that target audience.
Advertise Me:
Could you please briefly explain to our readers about the product?
Christie:
Christie® MicroTiles™ are the new digital canvas, comprised of lightweight tiles that lock together quickly and easily, like building blocks, to form a digital display of any shape or scale. They are specifically designed for maximum image quality in indoor, high-ambient light environments and are ideal for a wide range of demanding applications. Leveraging the strengths of both DLP® projection and Light Emitting Diode (LED) technology, Christie MicroTiles offer substantially brighter images and a much wider color palette than conventional LCD and plasma displays. Physically, each tile is 16 inches (408mm) wide x 12 inches (306mm) high with a shallow depth of only 10 inches (260mm), and requires just 2 inches (50mm) of clearance for rear ventilation, so they can be installed practically anywhere.
You can find a number of videos highlighting different aspects of the MicroTiles technology here:
http://microtiles.christiedigital.com/moreinformation?tab=video and www.microtiles.com

Advertise Me:
Please tell us a little about how MicroTiles started and what was the inspiration behind the business?
Christie:
Like all great inventions and revolutionary concepts in the business world, the idea for MicroTiles began with a rough sketch on a hotel napkin! MicroTiles inventors Bob Rushby, Mike Perkins and Larry Paul were sitting in a Tokyo hotel bar several years ago, when the idea first started to take shape. Dissatisfied with the trend of using conventional flatscreen panels for public displays, they started talking about how to integrate digital media directly into the built environment in new and exciting shapes and aspect ratios that would capture people's attention and support the architectural design of the space. They thought to themselves: "Maybe we can turn the display technology into an integral design element instead of an afterthought …" And so, after much research, testing and customer feedback, MicroTiles were born.
Advertise Me:
How long did it take to develop the MicroTile technology and then market the product?
Christie:
From conception to final product, it took us about four years.
Advertise Me:
What are the benefits of using this technology over traditional screens?
Christie:
MicroTiles allow architects and designers to throw out the supposed rule book on how large-format display systems have to work in big spaces. With MicroTiles, they can now literally blend digital media into the built environment, and express their creativity and vision in ways that were previously impossible using conventional flat panel LCD, plasma and LED walls. Simple to setup and self-calibrating for brightness and color, you don't need a lot of technical expertise to assemble or operate a display. Finally, MicroTiles offer more reliable and longer-lasting operation than traditional displays, and can be serviced in less than 15 minutes from the front by popping out the screen.
Advertise Me:
Which industries is MicroTile targeting? Is it just the digital signage industry?
Christie:
Christie MicroTiles are ideal for a wide range of demanding applications, including architecture, digital out-of-home (DOOH) advertising, command and control, and event production. Those are just some of the markets approaching us with strong interest. Every day, our business partners are discovering new ways of using MicroTiles that were impossible or impractical with other technology.
Advertise Me:
Is there a limitation to the number of MicroTiles that can be used and the shape of the canvas?
Christie:
You can connect up to 1,024 tiles together to function as a single display. It is possible to build an even larger display, but each section of up to 1,024 tiles must be controlled and calibrated by a separate group of External Control Units (ECUs). The configuration of the "digital canvas" is limited only by your imagination and the physical limitations of the space.

Advertise Me:
Can the MicroTiles be used for outdoor purposes?
Christie:
MicroTiles should only be used outdoors if they are enclosed and protected from such conditions as extreme temperatures, high humidity, precipitation and sunlight. The brightness of MicroTiles is insufficient for direct sunlight applications.
Advertise Me:
Is the system limited to the type of video input it supports?
Christie:
Single-link DVI is the only input supported at this time.
Advertise Me:
What has been the most successful and popular MicroTile project thus far?
Christie:
MicroTiles was official launched on November 11, 2009 in North America, and already we have installed our first system for a high profile customer and have a backlog of orders for a wide variety of innovative applications; but unfortunately, none that we can reveal at the present time due to customer confidentiality. We can say, however, to stay tuned for some exciting announcements. A number of launches are scheduled throughout the Asia Pacific region in March, April and May of 2010. Visit our website for show and launch updates.
Advertise Me:
What is the MicroTiles Designer?
Christie:
MicroTiles Designer is a free software program provided by Christie that lets you quickly plan a MicroTiles display and see how it will look in your space. MicroTiles Designer will also tell you the energy consumption of the display, how much it will weigh, and the optimal way to wire the tiles together. A simplified online version, the MicroTiles Calculator, will give you a sense of the capabilities and application of Christie's MicroTiles for your digital display requirements.
Advertise Me:
Do you have any advice for people who are planning to start a business in the digital signage industry?
Christie:
The digital signage industry is a rapidly evolving and exciting industry, so be prepared for a turbulent and exciting ride!
Advertise Me:
If someone is interested in this product, who would they contact and how much would it cost?
Christie:
The best way is to click on the MicroTiles website, www.microtiles.com and fill out our quick information form to have a sales representative in your area contact you, or to find out your nearest MicroTiles dealer.
Advertise Me:
This is our final question. What do you see as the next "BIG THING" in digital signage?
Christie:
Besides MicroTiles? Interactivity.
Advertise Me:
Christie, thanks for taking part in this interview and we hope to speak to you again in the near future. Hopefully, we'll get the opportunity to see this technology being used in Australia.
Christie:
Thank you. We're taking MicroTiles global, and will be launching them in the Asia-Pacific region in March, April and May this year. We invite your readers to come out to our events by registering on our website.
To read more interviews click here: https://www.digitalsignageblog.com/category/digital-signage-interview/

About Christie
Christie Digital Systems USA, Inc. is a global visual technologies company and is a wholly-owned subsidiary of Ushio, Inc., Japan, (JP:6925). Consistently setting the standards by being the first to market some of the world's most advanced projectors and complete system displays, Christie is recognized as one of the most innovative visual technology companies in the world. From retail displays to Hollywood, mission critical command centers to classrooms and training simulators, Christie display solutions and projectors capture the attention of audiences around the world with dynamic and stunning images. Visit www.christiedigital.com and www.microtiles.com.
Christie® is a registered trademark of Christie Digital Systems USA, Inc.
Christie®MicroTiles™ is a trademark of Christie Digital Systems USA, Inc.

About Advertise Me:
Advertise Me is a privately owned Australian company specialising in all aspects of digital signage solutions.
Our team of highly skilled professionals is able to introduce innovative ways for businesses to communicate with their intended audiences for a variety of purposes including informing, educating, entertaining and selling.
You can expect us to:
offer the most affordable and cost effective solutions tailored to your specific business needs.
provide you with concise and accurate information and will ensure that you understand and are comfortable with our proposals.
strive to make our clients happy and successful.
We have partnered with a number of key reputable organisations and will continue to build further partnerships to deliver the most effective solutions for our customers.
Visit our website at advertiseme.com.au for more information.
LIKE WHAT YOU'VE READ?
When you subscribe you will also join other Digital Signage readers who receive our content right in their mailbox. Good luck!