Weekend Fun: Wonder Wheel for digital signage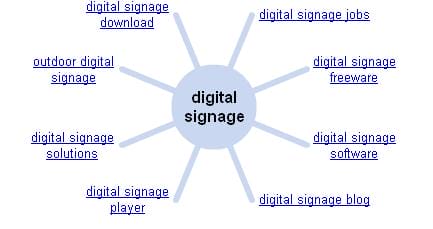 This weekend I decided to play around with the google search features and stumbled across the "Wonder Wheel". So what I did was I typed the search term "digital signage" in the google search bar. Google displayed the most relevant websites related to this search term, in Australia our Advertise Me and Digital Signage portal are on the 1st page and we're pretty happy about this result.
Anyways, I clicked on Show Option at the top left hand corner above the first search result and it displayed several other options available. I clicked on Wonder Wheel and Google displayed this:
The google wonder wheel was released in May 2009 and basically displays relevant and related search results. In my particular example, the search results relating to digital signage where:
digital signage jobs
digital signage blogs
digital signage freeware
digital signage software
digital signage player
digital signage solutions
outdoor digital signage
digital signage download
So out of curiosity, I clicked on the term digital signage blog and we were't surprised that this very blog was listed at the top of the results. What also happened was the wheel expanded to show another wheel. This is an interesting concept and it's something that everyone should be aware of.
Loading ...
LIKE WHAT YOU'VE READ?
When you subscribe you will also join other Digital Signage readers who receive our content right in their mailbox. Good luck!