Product review: Digital Signage Audio Tripper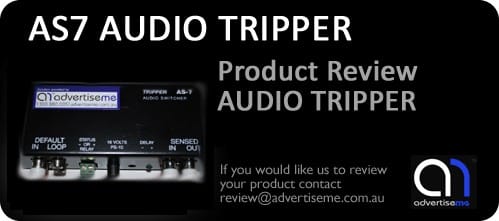 Christmas is fast approaching and we decided to review a product before the end of this year. It has taken us a while to complete this review as it involved using a video camera and editing the video but from this experience we can hopefully improve our processes and review more products next year.
Reviewed By: Advertise Me
The Product – Andrew's Audio Tripper AS-7
The audio tripper is a two way automatic audio switcher. It has two audio inputs; a default input, a sensed input and an audio output.
In its initial state the tripper selects the default input through the output. Whenever an audio signal is fed to the sensed input, the tripper will automatically switch to this input. The LED (green light) indicates that the sensed input has been selected. Once the signal to the sensed input stops, the tripper will switch back to the default input.
There is a delay control that can be used to adjust the amount of time the tripper waits before switching back to the default input. A delay would be preferable in the case of a multi CD player, for instance, to allow for the time taken to switch between discs.
The Setup
For our testing purposes we connected the unit as follows (I thought I'd be different and sketch the diagram by hand):
In this particular setup, we used a mobile phone as a default audio input – we thought we'd be creative and use a portable device that everyone carries around.
For the sensed input, we used the audio output of a digital signage player. The digital signage player was connected to a 19″ LCD screen and played scheduled content in a playlist. The playlist contained three items:
1. Image of product review email – has no sound
2. 15 second Advertise Me promotional video created by Blue Pony – has sound
3. Image of John Mayer Listening to… – has no sound
The output of the audio tripper is connected to a speaker. So what basically happens is that when the audio tripper doesn't sense any audio coming from the digital signage player i.e playlist item 1 & 3, it will play audio from the default input i.e. mobile phone.  All RCA audio cables were used for these tests.
Our Verdict
We tested several audio input sources – mobile phone (Nokia n95, iphone, blackberry storm), a CD player and also a digital signage player and didn't find any issues with the switching or the quality of the audio.
We have actually used this unit for one of our clients and we haven't had an issues.
The only thing to consider is that if the unit looses power, it will not perform the switching but it will still continue to play the default audio input – so at least there will be audio
We would recommend to decrease the delay to the minimum setting (rotate anti-clockwise)
Can be used for many purposes – ie. backup audio for continuous music
Usage
You may ask yourself when would you use this type of setup and to be honest if you had a digital signage player, you could schedule the audio to play directly from the player but there will be certain situations and environments like a retail store, that you may need to give some control to the local store manager to play their own audio CD's.

The Video
Here's a  quick video demonstrating how the system works.
If you want us to review your product, contact Advertise Me via email: review@advertiseme.com.au
About Advertise Me:

Advertise Me is a privately owned Australian company specialising in all aspects of digital signage solutions.
Our team of highly skilled professionals is able to introduce innovative ways for businesses to communicate with their intended audiences for a variety of purposes including informing, educating, entertaining and selling.
You can expect us to:
offer the most affordable and cost effective solutions tailored to your specific business needs.
provide you with concise and accurate information and will ensure that you understand and are comfortable with our proposals.
strive to make our clients happy and successful.
We have partnered with a number of key reputable organisations and will continue to build further partnerships to deliver the most effective solutions for our customers.
Visit our website at advertiseme.com.au for more information.
LIKE WHAT YOU'VE READ?
When you subscribe you will also join other Digital Signage readers who receive our content right in their mailbox. Good luck!