Weekend Fun: Blackberry App World and v5 officially released in Australia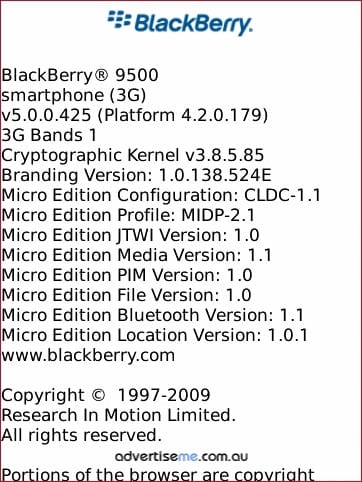 For those of you with a Blackberry in Australia did you notice the Blackberry App World icon and v5 of the OS? On Saturday morning I restarted by blackberry and whilst browsing the icons on the home menu I noticed an new icon…. it was the App World Icon. To be honest I initially didn't know what it was but after pressing on this icon, my jaws dropped. I then checked the Blackberry Desktop Manager and noticed v5 was available – this is where i jumped out of my seat and did the "dance of joy".
I spend the next hour or so installing and browsing through the applications available on the App World and upgrading to v5. I was surprised to see most of the applications were FREE. I ended up installing and testing some of these applications and found some to be very useful.  I was however disappointed to the number of applications, in particular the number of games available.
I had no issues with the upgrade process, except that I was almost worried when the last second task "Waiting for device initialisation" almost took 30 minutes. Just make sure you just leave it running and DON'T switch off your computer or the Blackberry otherwise you may brick your phone.
The main improvements I saw with version 5 of the OS are:
1. When the blackberry is loads it has a progress bar at the bottom rather than displaying a rotating clock. It's also quicker to load
2. Definitely faster in all aspects – opening applications, flicking through contact lists, changing applications
3. The additional of threaded SMS messages
4. The interface appears to look different – in particular blackberry messenger
5. Better reception – for some reason, I no longer get the usual SOS messages
The only bad thing I noticed is that browsing seemed a bit slower but it could be just my reception or it could be that the Blackberry Proxy is being congested. Anyways thank you Blackberry and Vodafone – you've made my weekend more fun.
LIKE WHAT YOU'VE READ?
When you subscribe you will also join other Digital Signage readers who receive our content right in their mailbox. Good luck!