Advertise Me Interviews Concerto Digital Signage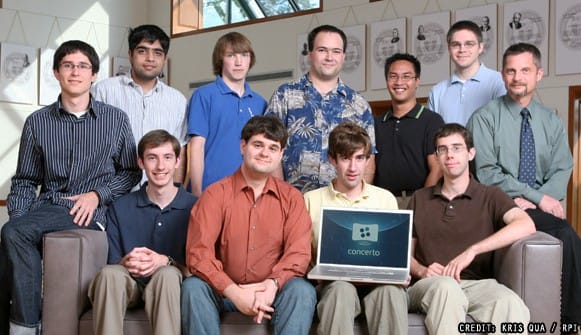 Advertise Me:
Hi Brian, thanks for joining us for this interview. We're quite excited to speak to someone such as yourself about Open Source applications for digital signage.
Brian:
Thanks for interviewing me! We built Concerto as students at one of America's great tech universities because it addressed an unmet need that we saw on our campus, and we didn't expect when we initiated the project to see it become a topic of interest for people all over the world.
Advertise Me:
Let's start with the basics – could you please explain what Open Source is, and is it really free?
Brian:
Sure. Open source software is free for anyone to obtain and use, as well as modify – provided that they make their modifications open-source as well.
Advertise Me:
Thank you for clearing that up. So let's talk about your Open Source application for Digital Signage called Concerto. How did you come up with that name and what is it exactly?
Brian:
First things first: Concerto is a free digital signage platform for sharing flyers, alerts, and other messages with other people by showing them on flat panel televisions and other types of screens. It's a broadcast medium that makes it simple to make a flyer and get it out to many people quickly, but it also allows screens to show a custom mix of messages based on predefined preferences.

The name Concerto pertains to this key function. A musical concerto emphasizes one musical instrument amidst an entire orchestra, and with our digital signage product, users can emphasize one type of message amidst an entire orchestra of different types of advertising. For example, at we launched Concerto at (RPI for short). At RPI, the management school has a big screen with a special zone for graphical messages. With Concerto, they just specify the types of advertisements they want to highlight, and which types they wish to exclude. So messages about management lectures might be shuffled in more frequently than student entertainment flyers and sports notices. In this way, the management school can tailor their Concerto display for the audience they hope to attract without impacting how others on campus use Concerto.

Advertise Me:
Out of curiosity, how did the Concerto concept and idea start?
Brian:
We started Concerto with a purpose: to improve communication within our campus community. There were already ways to tell the RPI campus community about events and other happenings before Concerto: student groups, academic departments, or individuals could print out and tape up a lot of flyers, or even put their messages on the campus cable television system. It took a lot of time and money to print out and put up lots of paper signage. The cable television system was managed by a very small group of people who had many other responsibilities aside from approving messages for cable. More importantly, that system was designed with a bureaucratic, almost corporate mindset in mind, one meant to keep control of the network regulated to only the smallest group of elite users. So we designed Concerto from the ground up to be accessible to every computer user at our school. Now we have students, staff, and faculty working together to help maintain the network. It really gives people a reason to pay attention to Concerto – they become a part of campus communication, instead of just being forced to see it.
Advertise Me:
Why should someone use Concerto and what are some of the benefits?
Brian:
Members of any community where events and information are often overlooked should find Concerto's unique design to be particularly attractive. We designed Concerto first for colleges and universities, but its benefits can extend to any community looking to spread and share messages about events and other activities.

Here are some core benefits of using Concerto:

Concerto allows one type of message to be highlighted amongst a huge pool of different messages. Messages are organized into categories called feeds, which can be mixed and matched differently on each separate Concerto display to cater to distinct locations and audiences.
Because Concerto lives on the World Wide Web, any device that can be connected to the Internet can potentially display Concerto. That means that flat panel televisions, mobile phones, personal screensavers, and other websites can all serve as hosts for your announcements.
The software is fully open source, so you can use and deploy it for free. With Concerto's flexible architecture, many different organizations (with different budgets) can help grow your Concerto network.

Advertise Me:
Since the application is free, are businesses permitted to resell this product to their clients?
Brian:
Under the terms of our license, the GNU Public License (v2), our software may be resold. But this distinction is key: no company can restrict the rights associated with a copy of Concerto by denying their users access to the source code. I'll also add that if you make a modification to our source code, you must give back those changes to the larger community. Companies may provide for-pay support and consultation packages to get our software up and running for others, but the source code must always remain free to everyone.

Advertise Me:
Can Concerto be classified as a Software as a Service (SaaS)?
Brian:
I guess it could be considered SaaS, but that's not how we think most people will use it. We have our Concerto server software running on a powerful machine at RPI that serves out the content for all of the client machines across our Troy, New York campus. This server could theoretically be located somewhere off-campus, in which case every client unit would receive content over the Web. But for most administrators who wish to launch a Concerto network at a school, in a town, or elsewhere, it probably makes the most sense to locate that server somewhere nearby. I should also mention that most users of Concerto are everyday people who just want to find and share messages of interest – since they just visit Concerto in a Web browser and never see its nuts and bolts, it looks like a service that could be hosted many miles away from them.
Advertise Me:
Could you please briefly explain what would be involved (hardware & software) in setting up a digital signage solution using Concerto?
Brian:
Concerto is designed from the ground up to work perfectly with inexpensive, commodity hardware that anyone can purchase from websites such as Newegg.com. There's a central server, as I already described, which is simply a computer that stores content and distributes it to each Concerto screen. The first step to deploy Concerto is to download our software at http://www.concerto-signage.com and install it on the computer that will act as the content server.

Once that's set up, you'll need some other computers to drive the different displays on your fledgling Concerto network. The system requirements for these units are much lower – we've been successful with $500 small form factor computers that have 2 GB of RAM, Intel Celeron M CPU, Ethernet connection, CompactFlash card, and DVI connection that can then be adapted for HDMI output to flat panel televisions. These client units use the Concerto Player software, which can be run as a live CD or installed directly to a storage device such as a hard drive or memory card. They must be able to connect to your network and receive power.
Then each one of those computers will drive the front end Concerto display on everything from a 19-inch computer monitor to a massive 108-inch flat panel television. The display hardware is completely up to you, as long as it can receive display input from a DVI or VGA port (which can be done using an adapter).

For more information about how to deploy Concerto, please see the page at http://www.concerto-signage.com/view/deploy.

Advertise Me:
How long has it taken to develop the Concerto framework and application?
Brian:
We started to develop Concerto in October 2007, and launched it in March of 2008. We were all students at the time in our undergraduate studies at RPI. Since our RPI launch in March 2008, we've updated the
core software over ten times, adding new features and addressing bugs in response to feedback from our more than 1,000 RPI-based users.
Advertise Me:
What makes Concerto so different from all the other Open Source applications in the market?
Brian:
Concerto first sets itself apart from many more traditional digital signage networks by being completely based on the World Wide Web. Older signage platforms were often based on coaxial cable lines. Concerto runs over standard Ethernet cable and wireless Internet, which makes it far more versatile for many places that now have more Internet jacks than coaxial hook-ups. More importantly, Concerto displays can show content that is completely specific to a location and/or audience. Finally, Concerto is designed from the ground up to encourage hundreds or potentially thousands of users to get involved in the process of sharing messages about events and other information.
Advertise Me:
What has been the most successful Concerto project thus far?
Brian:
Our first and most successful network is still at RPI, but we just released the source code under our public open source license in July, so we are also working with several groups from around America to launch Concerto in their own communities. While I can't talk specifics yet, we've received inquiries from companies, libraries, and other universities.
Advertise Me:
Do you have any advice for people who are planning to start a business in the digital signage industry?
Brian:
I would suggest that the digital signage space is ready for some new ideas. Digital signage software has traditionally been proprietary and expensive. Concerto is a free alternative that provides, for the most part, the core digital signage package. In order for future companies to be successful in this space, I think they need to do more than continue to provide the same types of products and services that we can now give away for free. The bar needs to be raised, with offerings that provide an even greater value proposition than before.
Advertise Me:
Are there any plans to monetize Concerto? How are you guys going to make money, or is this a hidden secret?
Brian:
Concerto started as a volunteer project, and we decided early in the game that we would not attempt to monetize the software itself. We have no hidden agendas or secrets when it comes to that. While some of our team may consider becoming digital signage consultants in the future, we will never charge for the code.
Advertise Me:
This is our final question that we normally ask all of the people we interview. What do you see as the next "BIG THING" in digital signage?
Brian:
We have built a platform with Concerto to enable the core features and functionality of what I like to call a "twentieth century digital signage platform." People can buy inexpensive commodity computer hardware, connect them to small or large monitors or television displays, and build a Web-based communication network in virtually any place where there's easy access to an Internet connection. It's a framework of functionality that nobody has to build anymore. Instead, they can focus on what they can add to Concerto to make digital signage more effective for new audiences. Nowadays, people are looking for new ways to interact with the information that's being spread around the world. Social networking really put the focus back on the end user, and we feel that digital signage can be made more effective by providing more ways for users to interact with the advertising they see.

One of the ideas that we're exploring with Concerto is how we can allow direct user interaction with digital signage. As the first and simplest way of enabling this kind of exchange, we're adding pause and rewind buttons to our screens that will allow people to stop on specific messages and roll back to what they may have missed earlier. But what I think we're really aiming to build is a full-blown kiosk mode that gives users new abilities to find out more about specific messages and other location-based information relevant to the Concerto display and its location. For example, let's say that I'm looking at messages playing on a Concerto screen in the lobby of a hospital. When I move close to the screen, a web cam detects my presence and the display changes to show a smaller version of the same advertisements, as well as a building map and other hospital information. I think that a new and greater push for designing experiences that combine advertising with interaction can help us to create a new type of digital signage.

Advertise Me:
Brian, thanks for taking part in this interview and we hope to speak to you again in the near future. Good luck with the Concerto project and we wish you all the best.
To read more interviews click here: https://www.digitalsignageblog.com/category/digital-signage-interview/
About Concerto:
Concerto is a free, Web-based broadcast medium for digital announcements that just works. Using Concerto, it's easy to engage large communities of people with graphical and text-based flyers, alerts, and other messages. The open source project was initiated by undergraduate students at Rensselaer Polytechnic Institute in 2008. The code can be downloaded for free at http://www.concerto-signage.com. The Concerto Project is open to developers from around the world and aims to provide a free platform for digital signage today and in the future.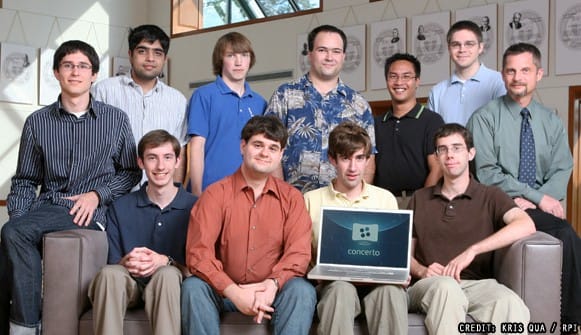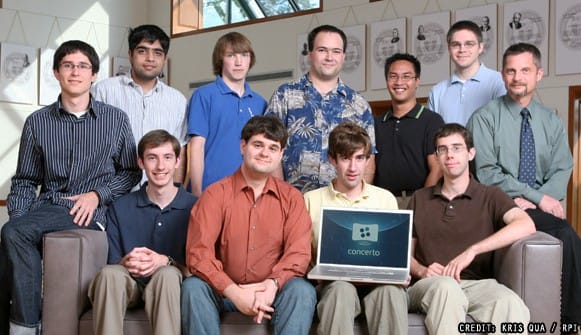 Credit: Kris Qua/RPI
About Advertise Me:

Advertise Me is a privately owned Australian company specialising in all aspects of digital signage solutions.
Our team of highly skilled professionals is able to introduce innovative ways for businesses to communicate with their intended audiences for a variety of purposes including informing, educating, entertaining and selling.
You can expect us to:
offer the most affordable and cost effective solutions tailored to your specific business needs.
provide you with concise and accurate information and will ensure that you understand and are comfortable with our proposals.
strive to make our clients happy and successful.
We have partnered with a number of key reputable organisations and will continue to build further partnerships to deliver the most effective solutions for our customers.
Visit our website at advertiseme.com.au for more information.
LIKE WHAT YOU'VE READ?
When you subscribe you will also join other Digital Signage readers who receive our content right in their mailbox. Good luck!