Make way for the Samsung LED HDTVs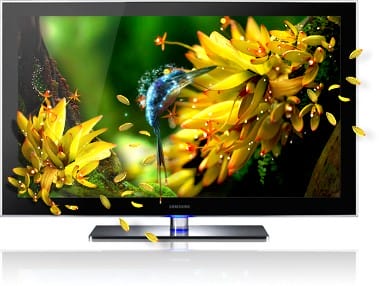 Say goodbye to LCD and Plasmas screens and let's make way for the latest LED screen technology. You may have already started noticing that prices for LCD screens and Plasma screens have been dropping in the past few years and one of the many reasons for this is the introduction of the next screen technology "LEDs". Now, your typical LED billboards have been around for quite some time now but now screen manufactures are developing screens for the home and for commercial purposes.
So today, we thought we'd look at some of the features of the Samsung LED HDTV and in particular the UN55B8000 (55″ 1080p LED HDTV). Firstly, you'll probably have already noticed by the description that the screen is 55 inches – yes it's big but also it's ultra slim (1.2″ deep). The other great features about this unit is that it is environmentally friendly – it uses 40% less power consumption than the traditional LCD screens.
The other additional features is that it is Internet@TV capable, meaning it allows you to receive content via Yahoo!®, Flickr®, and other online TV Widgets on screen (would this be good enough for digital signage???). USB 2.0 Movie: Multi-Media Center makes it easy to watch movies, browse photos and listen to music on your TV. But wait, there's more! Just say you feel like playing a game of chess or cooking instead of watching TV. Samsung Series 8 LED TV's Content Library Flash feature lets you do just that. Enjoy hours of built-in entertainment features, then personalize it by adding content that's available online. And downloading is easy. There's so much you can do with te Series 8 LED TVs.
In terms of price… it's not so bad, it's actually only US$3,999.99 (who uses 1 cents these days?). Anyways, if you're intending to capture your audience using the best picture quality – bright and clear images then look no further… LED is the way to go.
We would love to review this product when it hits Australia, so if someone from Samsung wants us to review the product send us an email to review@advertiseme.com.au
With the features of the Samsung LED UN55B8000 HDTV, what are your thoughts about using this as a digital signage player?
Feel free to submit your answer as a comment.
LIKE WHAT YOU'VE READ?
When you subscribe you will also join other Digital Signage readers who receive our content right in their mailbox. Good luck!