Weekend Fun: Digital Signage Mobility with the Humanoid iPhone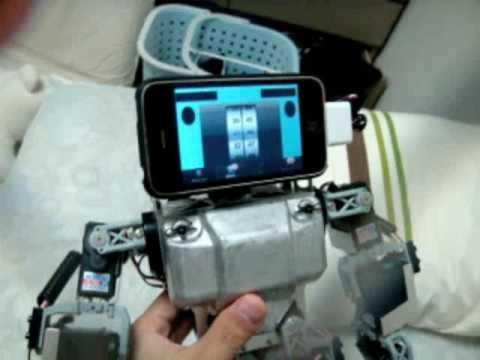 It's the weekend and thought I'd share an exciting and fun video clip – you'll be also surprised as well.
We previously talked about how the iPhone can be used as a digital signage player (there's already a few companies out there who have created an application on the iPhone) but now how would you like to be served by a humanoid robot with an iPhone attached to it's head? Watch the funky video and we'll discuss later:
In the examples in the video, the humanoid robot with the iPhone attached as it's head, can be used to:
wake you up – morning!!! maybe even give you a hug or a slap
entertain – it's a dance machine…shake it's robo booty
teach it new tricks and moves – next thing you know it will start imitating your moves
and if you're nice to it… it might even make you a coffee (just kidding – ummmm may be it is possible)
BUT more importantly it can interact with YOU – think about it from a sales and marketing perspective and you'll start realising that this robot can be used to attract more customers into your store and even possibly serve it's customers (stick your own photo image as it's head 🙂 ). The screen itself can be used even to promote sales, products and specials whilst it's dancing around entertaining it's customers (yes it's  digital signage after all). And yes…. I've said it before… the possibilities seem to be endless with the future of mobile phones as digital signage players.
So that's our weekend fun for this week and we all hope you're having a great weekend.
LIKE WHAT YOU'VE READ?
When you subscribe you will also join other Digital Signage readers who receive our content right in their mailbox. Good luck!