Statbrain figures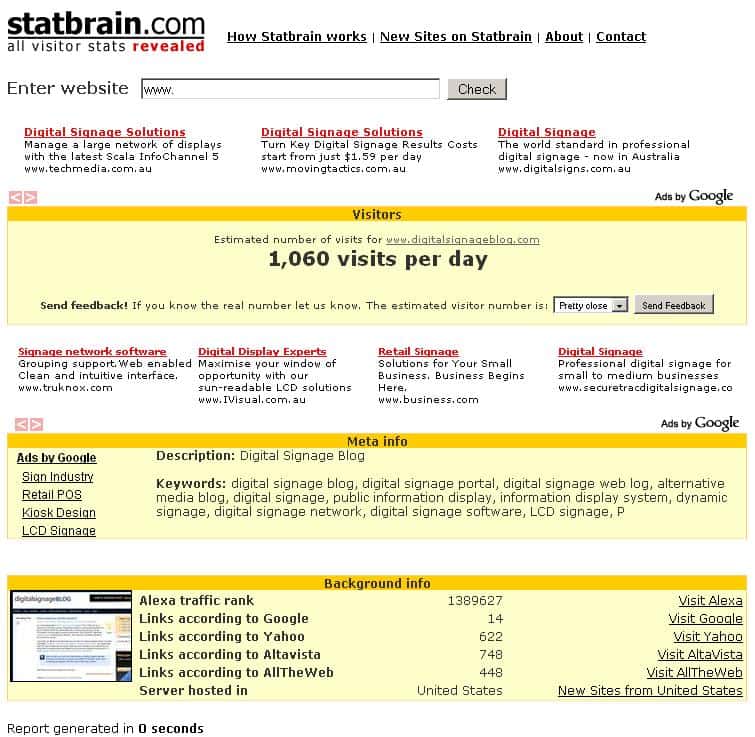 One of our readers kindly pointed us to a website called statbrain.com. We've never heard of this site before but it was quite interesting to see what information the website generated.
Basically, according to the website (source: www.statbrain.com) here's what it does:
With Statbrain.com you can find out how many visits any site has, enter the site into the form below.

Statbrain uses different resources on the web combined with mathematical and statistical methods to estimate how many visits a website has. Please enter the URL of the website that you would like to check.
We thought we'd share this information with you so that you can get an idea of how many visitors we get (just note that no where on the website does it say whether it's a unique visitor or not).
I'm not too sure whether the results are accurate or not (1,060 visitors per day) but it clearly does give us a good overview of what our visitor and links stats are for popular search engines. Just as a comparison, we manually checked our Alexa ranking for our digital signage blog and it's currently ranked 1,168,300 and the Digitalsignageblog.com traffic rank in other countries that they are listed on Alexa is United Kingdom 210,745, United States 898,627. We too are quite surprised that our UK ranking is 210,745 – not bad!! Our aim is to get below the 1,000,000 mark by the end of this year. Hopefully we will use these figures as a benchmark and gradually build up our online presence in the digital signage industry. As a result, we aim to gain more exposure for our potential advertisers.
Do you want to advertise your business on this blog? For more information or to find out the benefits click here.
Feel free to submit your answer as a comment.
LIKE WHAT YOU'VE READ?
When you subscribe you will also join other Digital Signage readers who receive our content right in their mailbox. Good luck!