Digital Signage: Burn that Screen!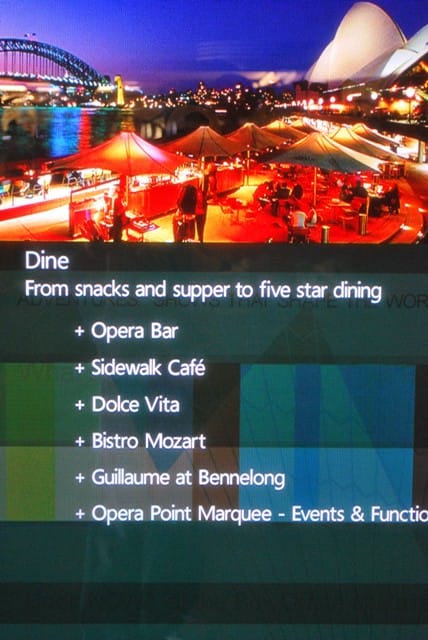 Several weeks ago I had relatives visiting from overseas, so being a host I decided to take them out sightseeing to the major "tourist" locations in Sydney. I must be honest with you, it's been a while since I've done that so I was quite surprised to see a number of businesses using Digital Signage at the front of their stores in the main streets of Sydney. The majority of the stores were Mobile Phone companies such as Telstra and Optus (there was also a couple of banks as well).
Whilst walking around the Sydney Opera house, I was stopped by one of my relatives and he said "What is that?". I turned around and I saw a large portrait plasma screen showing "What's on" information and local advertisements. Here's a couple of pictures of what we were looking at (click on the images to make them bigger):
"Ah!" I thought to myself, this is a great opportunity to talk about my business "Advertise Me", so I started talking about digital signage (actually it was more like giving him a sales pitch). But before I could finish, he stopped me and he said, "No, that's not what I meant. What's that annoying text doing in the background".
At that stage I didn't really know what he was talking about, so I carefully looked at the screen again and I couldn't believe that I didn't notice it the first time. *Have a look at the images again and see if you can spot it* If you haven't figured it out yet, click on these two images below:
He was basically referring to the burns on the plasma screen. Now, because I've seen this before on other plasma screens I started telling him how it could have potentially got there – the WHITE text was too bright and the text being displayed on the same area was too frequent.
This screen definitely needs to be "burnt" and replaced – no one likes looking at a screen with noticeable burns as it can distract the viewers from looking at the messages the business is trying to convey.
With the cost of LCD screens coming down, plasma screens are becoming obsolete, but if you're still using plasma screens  you may want to our forum post called "Guidelines to prevent plasma burns" on the digital signage portal.

Our question:
Has your plasma screens ever experienced the burn in effect or have you ever seen any screens with noticable burns?
LIKE WHAT YOU'VE READ?
When you subscribe you will also join other Digital Signage readers who receive our content right in their mailbox. Good luck!